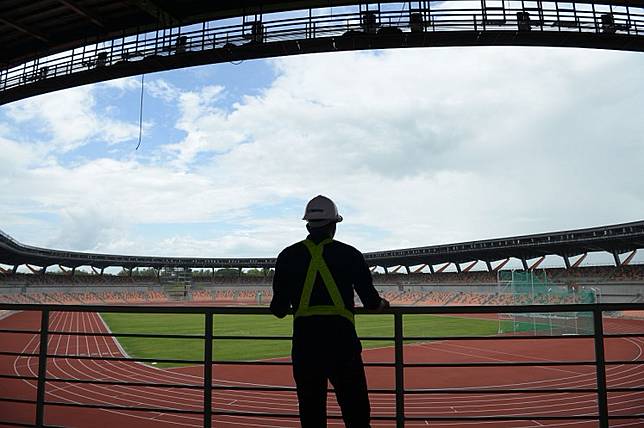 Something does not quite add up with the Southeast Asian (SEA) Games cauldron — and it is not even its 56 million Philippine peso (US$1.1 million) price tag.
The controversial cauldron, where the SEA Games flame will be lit to signal the start of the tournament, is located at the spanking new New Clark City (NCC) track and field stadium in Tarlac.
But the opening ceremony will be at the Philippine Arena in Marilao, Bulacan, some 90 kilometers away.
Deputy chief of mission for Team Philippines Stephen Fernandez, Olympic bronze medalist for taekwondo, said he was also perplexed by this, given that the lighting of the cauldron is the main event for every Games opening ceremony.
Philippine Olympic Committee executive board member Steve Hontiveros, long-time bowling chief and now head of handball, speculated that "it would probably be brought in by chopper."
Some sports fans are even suggesting that the huge budget allotted to the Games has allowed the country to build a teleportation device that would beam torch-bearer and world champion gymnast Carlos Yulo from the Philippine Arena to the NCC.
Fernandez and Hontiveros said they had not gotten wind of the opening ceremony program, which is slated for Nov. 30 and thus could not clarify the logistical puzzle.
And that is because Philippine SEA Games Organizing Committee (Phisgoc) has kept its plans close to its chest.
Phisgoc chief executive officer Ramon Suzara said there was a reason the cauldron was far from the opening venue — but "it's a secret."
The details of the opening ceremony, according to Suzara, will be disclosed much, much later in order to generate surprise and awe for the thousands of spectators expected to watch the opening live or on TV.
"It's all under wraps. We want it to be exciting," Suzara told the Inquirer.
"We don't want to tell right away what these personalities like Manny Pacquiao will do in the opening ceremony," he added.
The cauldron first came under fire for its price tag and then made the social media rounds again when netizens pointed out — and questioned — its distance from the site of the opening ceremonies.
The question as to how the cauldron will be lit during the opening ceremonies has generated several responses ranging from humorous to acerbic, and Phisgoc hopes the polemic will end when the glitzy opening party kicks off.
Suzara added that the organizers are no longer affected by the criticism they have received, especially regarding the budget.
"We don't read it anymore," said Suzara. "The important thing for is to make sure we deliver."
Meanwhile, a loan worth 11 billion pesos from a Malaysian bank was used for the construction of facilities in NCC for the Games, Philippines Senate Minority Leader Franklin Drilon revealed on Thursday.
Drilon pointed out there was a deficit amounting to 624 billion pesos in the Philippine budget this year and part of this would be intended to fund the SEA Games.
"Remember that we, in this budget this year, we have a deficit of 624 billion for which we have to borrow in order to finance that deficit at an interest [rate] of I don't know how much," Drilon said in an interview. "But part of that deficit or 2.5 percent of that deficit would be the cost of staging these Games."