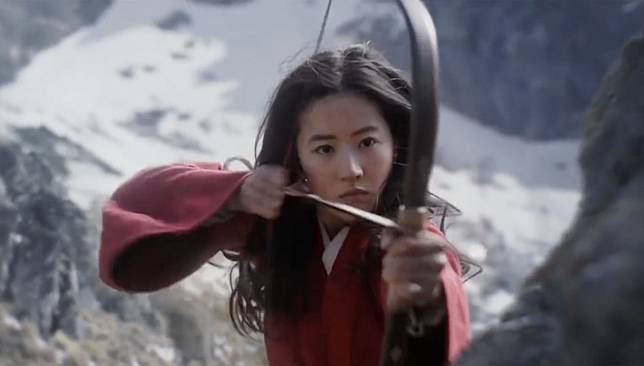 Since the trailer for Disney's live-action film Mulan was released last weekend, both mainland Chinese in the East and the diaspora in the West have been abuzz about their cultural identity and its representation in Hollywood " albeit for different reasons.
Chinese viewers have, on one hand, been enthusiastic about the casting of Chinese-American actress Crystal Liu Yifei in the lead role and the chance for a seemingly more "authentic" Chinese story to be told on the global stage.
On the other hand, they have pointed out historical inaccuracies " such as the southern Chinese setting when the source material states that Mulan is from the north " and expressed concerns that the plot has been too "Americanised".
Meanwhile, many Chinese-Americans were surprised to discover upon watching the trailer that the beloved 1998 animation had changed beyond recognition " most notably with the absence of talking dragon Mushu and male love interest Li Shang. Some also felt that the new film pandered too much to a mainland Chinese audience.
"The idea of a mythic mash-up of China (in the new film) … seems to play to the idea of a unified, singular China, an artistic representation of the one-China policy, which is troubling to me," said Jeannette Ng, a British sci-fi author with Hong Kong heritage.
"A lot of the time, this conversation acts like the only Chinese people who matter are the ones who live in mainland China " that they are the only truly authentic ones and everyone else is too Westernised to count," she said.
The online discussion indicates the delicate balance Hollywood interpretations of Chinese classics have to strike in portraying Chinese versus American values, as big US-China co-productions try their hardest to integrate the two for bigger global box office takings.
Despite ticket sales in China falling 3.6 per cent in the first half of 2019, owing to tightened government censorship, China is still projected to overtake the US box office next year, according to a recent report by professional services firm PwC.
Disney has tried hard to make the new film more true to its ancient Chinese source material, with a detailed " if inaccurate " historical setting featuring the ancient tulou roundhouses of the southeastern province of Fujian, and a star-studded, all-Asian cast with several icons of Chinese cinema such as Jet Li, Hong Kong actor Donnie Yen and Gong Li.
"Disney's tent pole movies are aiming at a global audience. That being said, given that China is the largest international market and the story is based on a Chinese folk tale, Disney will definitely take the Chinese audience's taste into consideration," said a Chinese film producer, who asked to remain anonymous, at a major US studio in Beijing.
"However, this is also a double-edged sword, as people tend to be more picky when they see things they are familiar with."
Indeed, several Chinese media think pieces have questioned whether elements of the original legend had become too Americanised in the film, leading to an inauthentic representation of a beloved Chinese heroine.
For instance, the Disney trailer suggests that Mulan joins the army to escape an arranged marriage, breaking away from family traditions and establishing her independence as a woman unbound by gender roles.
But in the original folk song Ballad of Mulan, on which the film is based, she volunteers to take the place of her ageing father in the army " making her a symbol of filial piety, courage and patriotism in traditional Chinese culture.
In a widely shared analysis discussing whether Disney's Mulan was a feminist icon, Peking University Press wrote: "Perhaps this is a cross-cultural creative misunderstanding that reflects the core differences between Chinese and Western culture. If Mulan is seen as a feminist symbol, I fear this may be wishful thinking."
However, both Chinese-Americans and Chinese nationals agree that the film, slated for release in March, is an inspiring tale for young girls.
"I feel like the people who are criticising the film are too attached and focused on the nostalgia factor. They are not seeing the bigger picture and the positive implications of this movie," said Alex Diep, a 23-year-old American of Vietnamese-Chinese descent.
"They are disregarding that this film gives an opportunity for young Asian girls to look up to Mulan and see her as a role model," he said.
Some Chinese have interpreted it as an inspiring fable of female strength and liberation, especially when ingrained patriarchal values and government initiatives such as the one-child policy have restricted women's rights over the years.
"(Mulan) remains one of the very few fighters and not conventionally feminine figures in the Disney princess canon," Ng said.
"(T)his is some sort of feminism education for a single-child generation in China that girls can fight like men do," tweeted Chinese journalist Li Jing.
Chinese-Americans are also optimistic that it will be a sure-fire win for Asian representation on the big screen, especially after the success of last year's romantic comedyCrazy Rich Asians.
"(Critics of the trailer) are disregarding the fact that this movie is another opportunity to showcase Asian people in a movie where we are not perceived as a negative stereotype," Diep said.
Others feel that the film can help build a bridge between East and West.
"Mulan is a Chinese story. It comes from a completely different culture, one which I'm not at all convinced that Hollywood, or the West at large, truly understands yet," said New Yorker Jonathan Pu, who is of Taiwanese descent. He said he enjoyed the lighthearted animation, but that it did not define his expectations for the remake.
"If Disney can stay true to the source material and convey (filial piety) in a way that even just some of the audience can grasp, then it will go a long way towards building bridges," Pu said.
Ultimately, the success of this American spin on Chinese culture will rest on box office sales, which Disney hopes will exceed the 1998 animation that flopped in mainland cinemas. Recent Disney live-action remakes have had a mixed reception in China " Dumbo flopped in March, while The Lion King did moderately well on its release last weekend.
"I'm sure there will be a mixed response when the movie is released but it should have enough buzz and do well," said the Beijing film producer.
"I hope it will be able to convey the spirit of Mulan and inspire millions of young girls."
Copyright (c) 2019. South China Morning Post Publishers Ltd. All rights reserved.