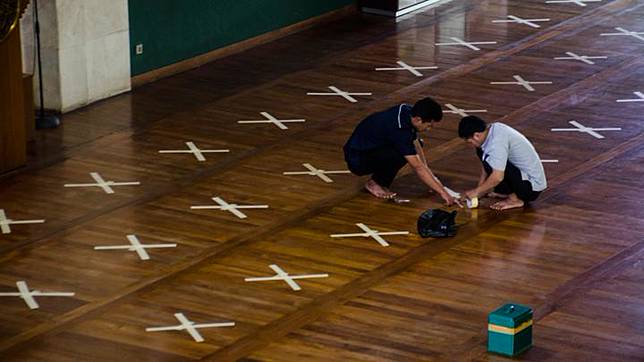 TEMPO.CO, Jakarta - The Indonesian Mosque Council (DMI) on Monday issued circular necessitating mosque management to reopen its gates under the new normal phase that the government plans to introduce in the near future.
The new normal plan that has taken national headlines recently is the government's attempt to loosen the COVID-19 large-scale social restrictions (PSBB). DMI asserts that mosques must adhere to strict pandemic health protocols.
The DMI circular directly follows the Religious Affairs Ministry's No.15/2020 circular on the guide to conducting religious worship amid the pandemic.
The first part of DMI's third circular No.104/PP-DMI/A/V/2020calls for "Mosques to resume the five daily required prayers and weekly Friday prayers."
The DMI circular was signed by its chairman and former vice president Jusuf Kalla and the council's secretary Imam Adduruqutni and addressed to each and every mosque under the DMI leadership.
Several notable health protocols that need to be followed include maintaining physical distancing measures, not using mosque rugs, routinely disinfect mosque areas, and always providing hand sanitizers and other means of preserving a congregation's self-hygiene during their visit.
The DMI also encouraged mosques to utilize its speakers as a means to spread essential and urgent messages to prevent the spread of COVID-19. Lastly, the mosque council reminded Muslims to remain at home if they are ill.
EKO WAHYUDI