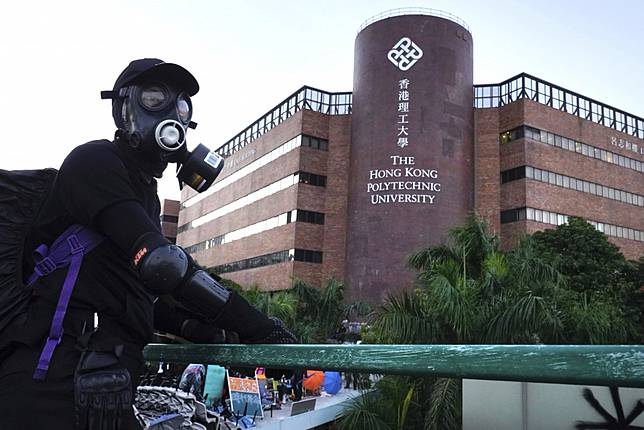 Another group of diehard protesters has left the besieged Polytechnic University campus and surrendered to police, as Hong Kong's transport system returned to relative normality on Thursday morning.
Police continued to seal off the Hung Hom site as the stand-off entered its fifth day, with about 60 radicals still barricaded inside and resisting pleas to hand themselves in.
In the small hours of Thursday, about seven who had been holed up for days in increasingly squalid conditions sought medical treatment and left the grounds with paramedics, where they were met by police.
A Post reporter on site found at least 20 laboratories had been broken into, some of them containing potentially explosive materials.
PolyU, together with Chinese University and City University, had earlier reported the theft of chemicals from their laboratories to police.
In signs that radicals had ventured inside, windows were broken on multiple floors of the science building, close to the footbridge from which protesters abseiled down on Monday night in their bid to escape the PolyU siege.
Police have surrounded the campus since Sunday evening, following a day of extremely violent clashes in the area that the force declared a riot.
The Transport Department on Thursday said the Cross-Harbour Tunnel " which links Kowloon with Hong Kong Island " could not reopen in the near future because of the level of damage to its facilities.
It would take the government about two days to collect evidence of the vandalism to the tunnel's traffic control system before repairs could begin, the department said.
Free ferry services running between Hung Hom and Wan Chai, and Kowloon City and Wan Chai have been specially arranged.
The city returned to relative calm on Thursday, just three days ahead of the scheduled district council elections.
Only a small number of protesters responded to online calls to "paralyse" Hong Kong by disrupting road traffic and rail services on Thursday.
The rail operator said the obstruction of train doors and the pressing of emergency buttons on three MTR lines " Kwun Tong, Tsuen Wan and Island " caused delays of 5-15 minutes at least.
Long queues formed at the Kowloon Tong platform for Whampoa-bound services. They worsened after 9am, and overcrowding measures meant hundreds of passengers were held back from platforms as they changed from the East Rail line to the Kwun Tong line.
Accountant Edward Choi, who was on his way to his Ngau Tau Kok office on Thursday, said he had been badly affected by the travel chaos, but added he understood the protesters' cause.
"We have to get used to it," said Choi, who had left his home earlier than usual to avoid being disrupted.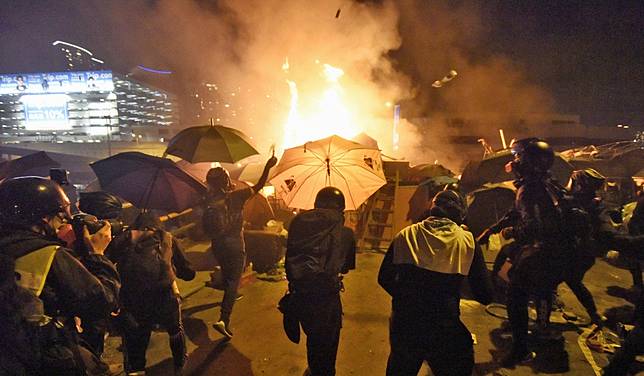 Meanwhile, more than 100 mask-wearing students staged a sit-in at the entrance of Po Leung Kuk Leung Shing Pik College in Tsuen Wan early on Thursday to protest against what they called police trespassing on school grounds a day earlier.
They gathered from 7.15am to 8.05am and chanted anti-government slogans at the end of the peaceful protest. They planned to hold a strike on Thursday and Friday.
On Wednesday morning, students tried to form a human chain outside the school to block traffic.
According to its student concern group, 14 police officers arrived at the school gates shortly afterwards and moved onto the school grounds to drag out and take the name of a Form Four student.
Another pupil from the same year was allegedly punched in the chest by a police officer.
"The social atmosphere has become more intense recently. If the Education Bureau refuses to suspend classes, we would rather have a strike ourselves to protect our students," said Jane, a Form Five student and member of the student concern group.
Another school in Yuen Long, TWGHs Lo Kon Ting Memorial College, issued a statement on Wednesday evening confirming that five of its students had taken part in protests where train doors were obstructed.
The school said it had sent teachers to the station and later met the pupils' parents, adding the students concerned were given warnings and punished with "demerits".
Yuen Long station, on the West Rail line, will be temporarily closed from 2pm on Thursday, the four-month anniversary of the night a group of white-clad men assaulted protesters and passengers in the station.
Copyright (c) 2019. South China Morning Post Publishers Ltd. All rights reserved.