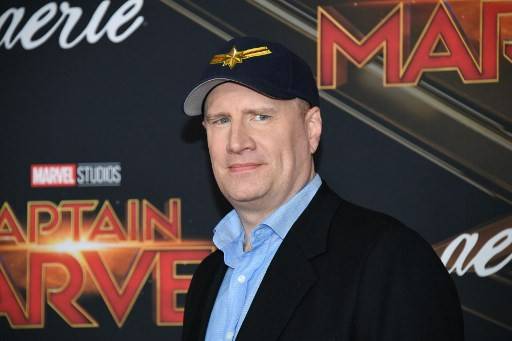 With Avengers: Endgame running over three hours long, Marvel Studios president Kevin Feige gives this piece of advice to people watching the film: "Don't eat or drink before going to see it."
Feige was with Marvel at the very beginning. Most famously, he spoke the Avengers film franchise into existence when he talked about the possibility of using all these heroes together in a film back in 2006 at the San Diego Comic-Con.
Now, over 10 years and 21 films later, the Marvel Cinematic Universe (MCU) is the biggest franchise in film, owned by the biggest company in entertainment (Disney) and about to launch its biggest film, Avengers: Endgame.
Being the guy literally in charge of this universe, he's basically Thanos—if Thanos were a good guy.
Making Endgame was challenging, especially when it came to making sure all the actors' schedules would work, considering that Avengers: Infinity War and Endgame were shot back-to-back.
But there was a bigger challenge for the man who has headed the studio since 2007.
"Really it was designing a movie that would satisfy millions of fans, dozens of cast members, hundreds of crew member. This is a 10-year journey and that's a big part of our lives, and a big part of moviegoers' lives. So we had to deliver in a satisfying and surprising way."
Beyond the juggernaut that is Endgame, Marvel has many things coming up. Feige said they would not be announcing any release dates until after Endgame (April 24) and Spider-Man: Far From Home (July) drop.
Read also: Indonesian fans go wild over 'Avengers: Endgame' presale tickets
But there have already been announcements of TV shows for Loki (starring Tom Hiddleston), Scarlet Witch and the Vision (it's called WandaVision), Falcon and the Winter Soldier, and Hawkeye (starring Jeremy Renner), all for the upcoming Disney streaming service Disney+.
But something that has Feige's particular attention is Disney's acquisition of Twentieth Century Fox, bringing two major Marvel properties—the X-Men and the Fantastic Four—into the Marvel Studios fold.
Feige reminded reporters that he worked at Marvel for seven years before Marvel Studios became a reality, so he actually worked on the Fox movies based on Marvel characters. He first came on as a producer in 2000, working as an associate producer on X-Men.
"I'm excited about all of them. It is wonderful when a company like Marvel has access to all its characters. It's nice now that we have more toys in the toy box that the company owns," he said. "It is fun and emotional for my career to have come full circle that these characters are back."
The MCU is getting bigger and, as the smashing success of 2018's Black Panther and 2019's Captain Marvel has shown, diversity is a driving force at Marvel Studios. Beyond talk of developing the Asian-American kung-fu hero Shang-Chi, Feige talked about what he wanted to do at the studio, adding that audiences would be seeing more diverse superheroes sooner than they think. "We want our films to reflect the world. We want our films to reflect the audiences all over the globe that are cheering for the films. We want all these people to see themselves up there."
And looking back, Feige admits that everything with the Marvel Cinematic Universe had gone far better than he imagined. "It has exceeded my expectations. I'm not that delusional to have envisioned it being this big. For those of us who have lived with it every day for 10 years, it's extremely emotional."
At the end, Feige is thankful. "I'm so excited. I'm so appreciative. And by the way, all this talk of our dreams coming true is because of the fans. Every decision we make, every choice we make, developing these movies, making these movies, the movies are for them. It's that way because we are fans ourselves."