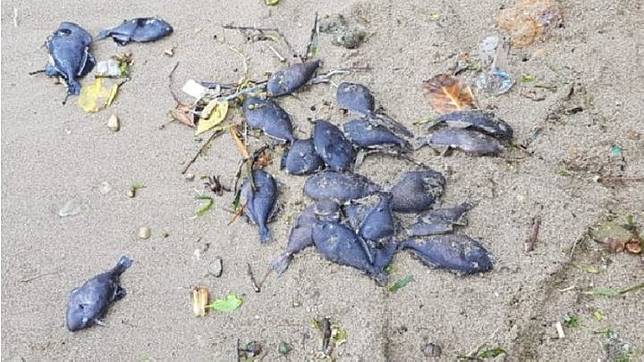 TEMPO.CO, Ambon -National Disaster Mitigation Agency (BNPB) asserted various marine biota that was found dead in the coastal area of Lolonluan Village, North Tanimbar Sub-district of Tanimbar Islands was not related to earthquake activity.
"There is no relation between marine biota washed up dead on the coast and quake activity that occurs on the seabed," said the agency's tsunami expert Abdul Muhari, Tuesday, Oct. 15.
Muhari denied the circulated information regarding sea animals stranded on the coast foretell that a major earthquake is near in the region.
According to him, no study has concluded that the phenomenon is linked to seismic activity that usually generated from plates at a depth of 1,000 meters at sea.
"The biota which has often died in large numbers, then stranded on the coast are shallow-reef marine biota, not deep-sea ones," Muhari added.
The phenomenon is often due to the upwelling or rising currents that usually carry plankton or nutrients which are shallow marine biota food to the surface.
"So the rumor that there will be a huge earthquake following the death of marine life in Lolonluan Village is false information, and the source cannot be accounted for," Muhari underlined.
As of Monday, October 14, the 6.5 magnitude earthquake in Maluku, Thursday, Sept. 26, has generated 1,516 aftershocks, forcing a total of 148,619 people to flee from their houses.
The number of damaged houses in the affected areas, namely Central Maluku, western areas of Seram, and Ambon, reaches 6,355 units. Meanwhile, the death toll is recorded up to 41 lives, while 1,602 sustained injuries.
Central Maluku Regency is still holding the emergency response until October 16, 2019. While Maluku Province and Ambon City have begun the recovery process.
ANTARA