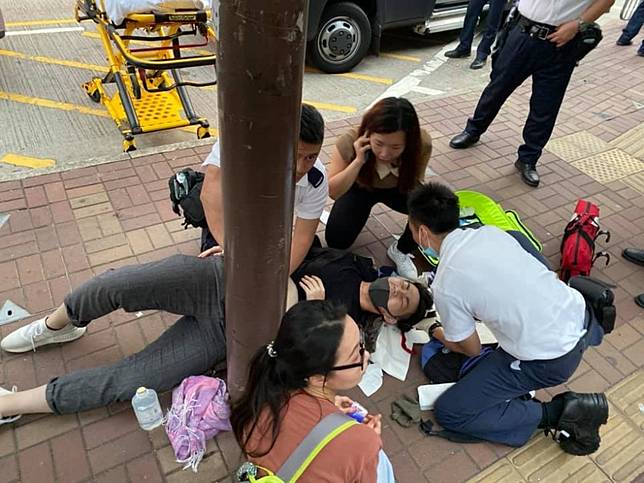 A man surrendered himself to Hong Kong police after slashing a teenager in the neck and abdomen near a "Lennon Wall" in Tai Po on Saturday evening.
A police spokesman said the attack took place outside Tai Po Market MTR station at around 5.42pm. The victim, aged 19, was rushed to Prince of Wales Hospital in a conscious state. The identities of the attacker and the victim have not been confirmed.
Photos taken by passers-by that are circulating on social media showed the victim dressed in black and wearing a face mask. He was slumped to the ground and bleeding when onlookers came to his rescue.
Wong Siu-kin, a community organiser from localist group Civic Passion, said the victim was distributing leaflets near the Lennon Wall set up in the pedestrian underpass near the railway station.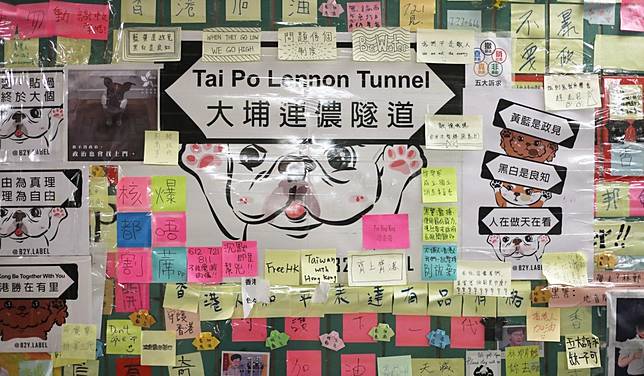 "The duo apparently argued because of differences over political views," Wong wrote on Facebook.
"The man suddenly attacked the victim in the neck with a knife. The victim ran for his life, but the attacker chased him to the nearby bus terminus, where he again stabbed him in the abdomen," Wong wrote, adding that the attacker then jumped into a taxi and fled from the scene.
He later surrendered himself at Tai Po Police Station.
Police have cordoned off the area and started an investigation.
There have been several reports of attacks near Lennon Walls over the past few months.
Last month, Superintendent Fong Chi-kin said police had arrested 57 people involved in 40 criminal cases related to Lennon Walls.
"Most of the cases involved violence, such as fighting in public places, assaults and wounding," Fong said. "So, we assessed that these places pose a relatively higher security risk."
After the incident on Saturday, police on their Facebook page wrote they strongly condemned any act of violence "irrespective of motive or background". "We will take every case seriously and carry out investigation actively," the post read.
In August, a tour guide was accused of stabbing three people, including a journalist, near a Lennon Wall in Tseung Kwan O.
Lennon Walls have appeared in several locations across Hong Kong since July in response to the government's handling of protests over the now-withdrawn extradition bill.
The Lennon Wall outside Tai Po Market railway station is one of the largest in the city.
Copyright (c) 2019. South China Morning Post Publishers Ltd. All rights reserved.