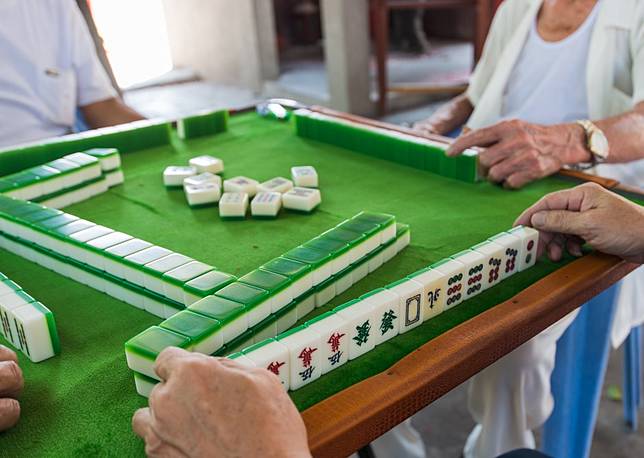 China's "national pastime" of mahjong is facing a clampdown in a number of jurisdictions as part of a nationwide campaign against "dark and evil forces".
Two local governments have ordered mahjong houses and poker rooms to be closed by Tuesday in a bid to "purify the social environment" and "improve the image of citizens". Failure to comply carries a penalty of up to three years in jail.
According to separate police announcements issued on Sunday, the affected jurisdictions include Yushan county and Xinzhou, a district of Shangrao city, both in the eastern province of Jiangxi. The mahjong houses are noisy and often involve gambling, they said.
The closure was related to the campaign launched in January last year by Chinese President Xi Jinping to "eliminate the dark and evil forces" of organised crime, the announcements said.
At least two cities in Hubei province, central China, and one in the southeastern province of Anhui issued similar announcements last month, accusing the entertainment establishments of providing a venue for crime, affecting people's lives and corrupting social morals.
The orders have triggered controversy in China, where the four-person tile-based game is an important pastime to many, especially retirees. As life goes increasingly digital, mahjong houses are also considered an important opportunity to meet and engage with people socially.
The reaction of 70-year-old He Shengli from Cixi, in the eastern province of Zhejiang, was typical: "How am I supposed to kill my time if there are no mahjong houses any more?" he said. "Gambling? 100 yuan (US$14) would be the most I'd lose even if I played for an entire day and my luck remained bad. Why don't they go close down casinos in Macau?"
Some internet users also questioned the legitimacy of the orders. "They (mahjong houses) are operating legally and have acquired licences from the government itself. They pay taxes. And now they shall be closed? This shows exactly how our business environment is - businesses take a huge risk of going bankrupt," one commenter said on Weibo, China's version of Twitter.
"This is typical, lazy governance, a one-size-fits-all approach," another said.
Mahjong originated in China during the Qing dynasty (1644 to 1911) and is regarded by many as part of the country's national heritage, although others complain that it is noisy and leads to addiction.
A woman in Chongqing was so engrossed in a game of mahjong at a banquet earlier this month that she failed to notice her toddler son had gone missing. The boy slept alone on stairs in a car park for at least an hour before a police officer took him to the police station, online news portal Thepaper.cn reported.
Gambling is illegal in China, but there is no fixed definition on how big a bet constitutes the activity. Small amounts - typical in the mahjong houses - are not usually defined as gambling.
Under Chinese law those who gamble or provide a venue for gambling for profit may be detained for up to 15 days or fined up to 3,000 yuan. There is also a criminal penalty up to 10 years in jail for those who make a living by gathering people to gamble.
Copyright (c) 2019. South China Morning Post Publishers Ltd. All rights reserved.