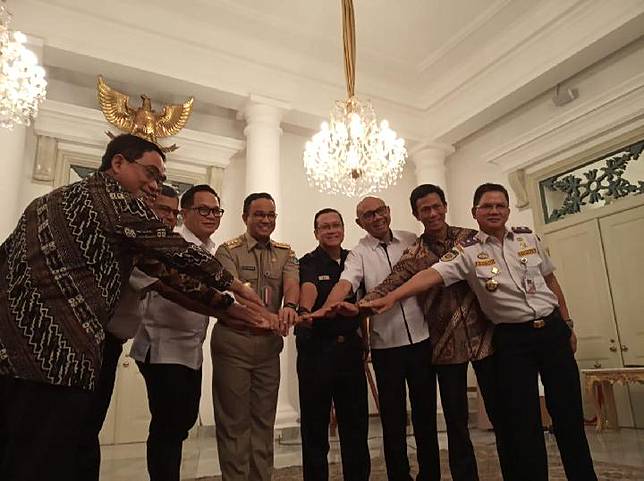 TEMPO.CO, Jakarta - Jakarta Governor Anies Baswedan acknowledged President Joko "Jokowi" Widodo's understanding of the importance of an integrated transportation system as the president had served as mayor and governor.
Anies expressed his appreciation towards the president during the signing of the partnership between PT MRT Jakarta and PT Kereta Api Indonesia (KAI) on the integrated system of the trains.
"Fortunately, the President had served as governor and mayor, so when we delivered this [project], we didn't need to explain it deeply," said Anies at the City Hall, Monday, December 9.
Anies then expressed his gratitude to President Jokowi for allowing the integration plan of urban transportation and the commuter line. He asserted that the President's instruction would be executed immediately.
According to the governor, the project was necessary given the high number of passengers of land transportation in the capital. "The passengers' number reached 1.2 million people, our land transport users amounted to 980,000 people. If these [two mass transport] is integrated, there will be a hike in users' number up to over 2 million people," he remarked.
Anies Baswedan mentioned that the project of the integrated system will in the form of a joint venture in which PT MRT Jakarta will own 51 percent of the stake, while PT KAI will have 49 percent of stake. The aspects of the integrated system include management, routes, and ticketing.
TAUFIQ SIDDIQ