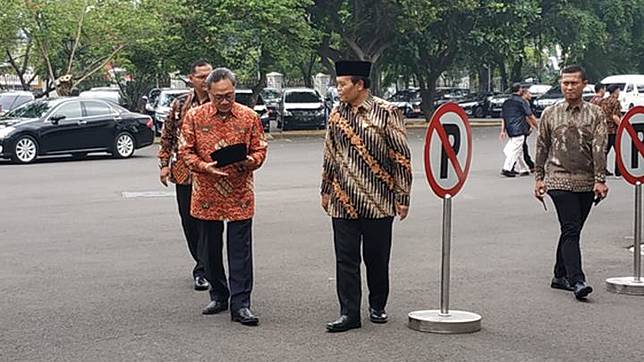 TEMPO.CO, Jakarta - Several executives of the People's Consultative Assembly (MPR) visit President Joko "Jokowi" Widodo today, Oct. 16, at State Palace, Jakarta. Deputy speaker Zulkifli Hasan explains the visit aims to discuss the inauguration of the president and vice president for 2019-2024.
"To consult about the inauguration, fixing the schedule and technical issues," said Zulkifli upon his arrival.
Zulkifli reiterates that the event must be better than the previous inauguration ceremony five years ago. "This will be an honor for our nation. There is no choice except [the event] must be success remarkably.
The Assembly's deputy speaker Fadel Muhammad outlines three issues discussed with the President, namely the event's time, agenda, and speech materials to be delivered by the president-elect after the swearing-in.
According to Fadel, the Regional Legislative Council (DPD) is also ready to succeed in holding the presidential inauguration, and several of the members will attend without bringing their spouse.
"They perhaps want to prevent the room from being overloaded and avoid unpleasant things during the establishment. And hopefully, this preparation runs well," Fadel added.
The inauguration of incumbent President Jokowi and Vice President Ma'ruf Amin is scheduled on Sunday, October 20, in the DPR Complex, Jakarta. The ceremony will begin at 02:00 p.m.
FRISKI RIANA