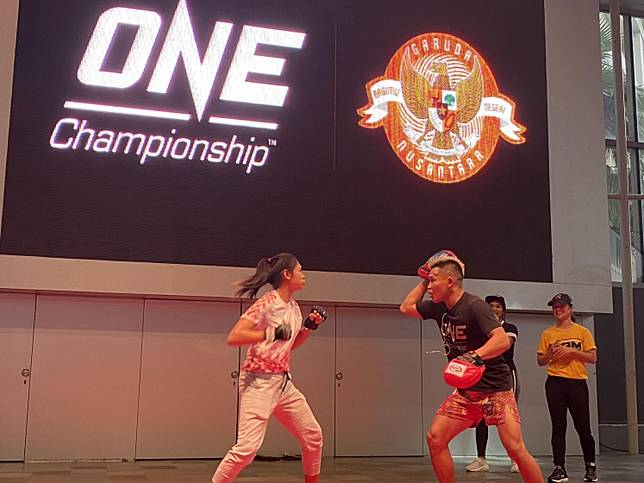 To further familiarize people with mixed martial arts (MMA) and to promote sportsmanship and healthy living, ONE Championship MMA athletes Priscilla Hertati Lumban Gaol and Adrian Mattheis invited Indonesian soccer protégés Zahra Muzdalifah from the Persija women's soccer team and Firza Andika, who is currently on loan at PSM Makassar from Belgium's AFC Tubize, to reach out to their fans.
The event was the result of a collaboration between ONE Championship and the Soccer Association of Indonesia (PSSI). It was held at Gandaria City shopping mall in Southern Jakarta on Saturday and has also been set as an introductory event for the ONE Championship bout that is slated to be held at Istora Senayan Stadium on Feb.7. The event, dubbed ONE: Warriors Code, will also set the stage for both Priscilla and Adrian to pursue their goal of earning new titles.
"Standing here before soccer and martial arts aficionados, I feel a firm sense of unity. I am glad that martial arts and soccer can come together here as one," Priscilla said in a press release on Sunday.
Adrian echoed Priscilla's statement, saying the joint event has motivated him.
"I will continue to work hard to make people proud. I'm even more motivated now to bring honor and glory to Indonesia in every performance."
Zahra acknowledged that she has been on an uphill battle. Therefore, promoting good sportsmanship has always been an honorable duty for her.
"To become an athlete is not an easy task, it requires a strong mentality and motivation, as well as strict discipline."