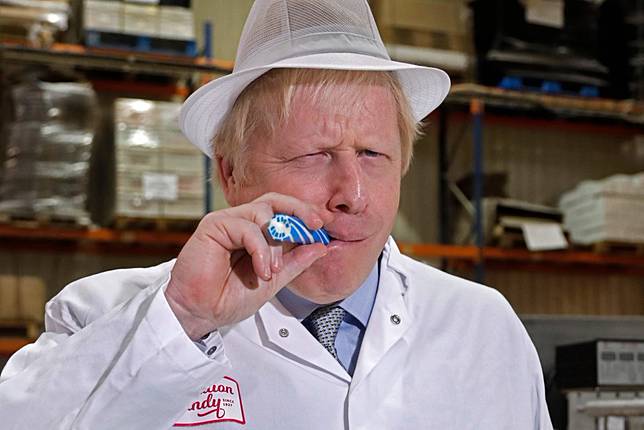 If Boris Johnson was still a newspaper columnist, he may have mocked a prime minister outed as a serial philanderer with links to the Kremlin.
The Queen's highest official, he also may have quipped, has more wives than the King of Swaziland or more lovers than a 1970s rock star on crack, or words to that effect.
He may have lapped up allegations that the prime minister, in his former role of foreign secretary attended "bunga bunga" parties in the Italian chateau of a former senior KGB operative, and demanded he be charged with high treason, then strung up on the Tower of London for colluding with spies to break up the European Union.
Yet as reports about the private affairs of the UK's prime minister continue to mount, driven largely by a handful of the country's top investigative reporters, observers are baffled by the lack of importance given to Johnson's serial philandering by much of the country's media.
With less than a month to go until the next general election, there seems little evidence that the skeletons that continue to tumble out of Johnson's cupboard are doing him any harm in the opinion polls. The latest polls are still giving the Conservatives a double-digit lead over their nearest rival, Jeremy Corbyn's Labour Party.
"What we find hard to believe is that the English people are accepting this behaviour for a prime minister," said one senior London-based Asian diplomat.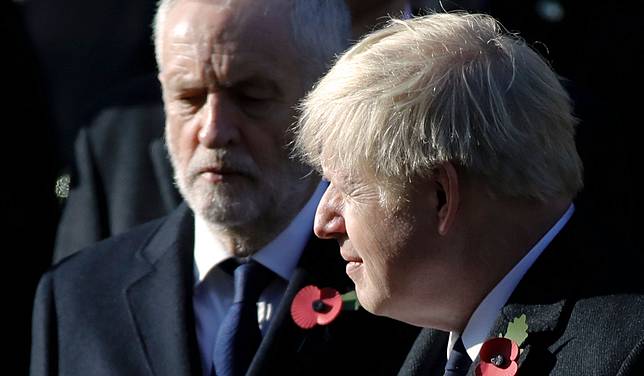 Johnson's connection with Californian businesswoman and pole-dancing former model Jennifer Arcuri surfaced again this week after she gave interviews to British television about her "very special relationship" with the prime minister when he was mayor of London.
Johnson is currently facing two inquiries into impropriety regarding his relationship with Arcuri.
An investigation into a probe by the Government Internal Audit Agency into a GBP100,000 (US$129,000) government grant to Hacker House, one of Arcuri's companies, found the award to be appropriate. However, Johnson still faces two other probes, one by the Greater London Authority's standards committee and the other by the Independent Office of Police Conduct for the criminal offence of misconduct in public office, because of the favours Arcuri received.
While mayor of London, Johnson spoke at four events organised by her conference-organising company Innotech.
She also received GBP11,500 sponsorship from the London mayor's promotional agency for two of her networking events and took part in three trade missions alongside Johnson, with only one as a formal invitee.
Arcuri is now speaking out about how badly she believes she was treated. On Monday, Arcuri, who has now returned to live in California, told the BBC she had tried to contact the prime minister last August to find out what was happening with the allegations, but he refused to take her calls.
"I rang, he answered, it was passed off to someone who mocked me by pretending to speak with a Chinese accent."
"It wasn't him, I know his voice, but it was somebody who didn't want him speaking to me," she said.
Johnson insisted "complete propriety" in his office's dealings with Arcuri. He is being investigated for not declaring his personal interest with her, but that is perhaps not surprising given that he was still married to the mother of four of his children, barrister Marina Wheeler.
It has also emerged that the Greater London Authority's standards committee is now also investigating Johnson's 2009 relationship with art consultant Helen Macintyre, with whom he is widely believed to have fathered a child.
Johnson has not publicly acknowledged another child with Macintyre.
When it comes to philandering, Johnson has form. While still a journalist, he had a four-year affair with a colleague Petronella Wyatt, who says he made her have an abortion.
Wheeler, his wife, finally left him when she discovered his relationship with his current partner, communications expert Carrie Symonds. Last summer police were called when the couple had a blazing row. Wheeler was Johnson's second wife.
In September, Johnson was accused by a female journalist of giving her leg "a squeeze" while at a private lunch 20 years ago. His spokesman issued a clear denial.
Perhaps even more concerning than Johnson's treatment of women, especially for the UK secret services, are the allegations of his links to the Kremlin, mirroring similar accusations lodged against US President Donald Trump, who will meet Johnson in London early next month at a Nato summit.
The UK government is currently resisting pressure to publish a report by the UK Parliament's intelligence committee that The Sunday Times newspaper reported that Russian interference may have affected the 2016 Brexit referendum. Johnson was a prominent supporter of the Brexit campaign.
His government says it needs more time to review the security implications of the report and would release it after the general election on December 12.
However, critics say the report was being withheld because wealthy Russians have made large donations to the Conservative Party.
Moreover, on Sunday, The Observer newspaper revealed Johnson met the Russian billionaire and ex-KGB agent Alexander Lebedev at a party at his mountain villa in Umbria, Italy.
The party, attended by a number of celebrities including the actress Joan Collins, was held two days after attending a high-level Nato summit in April 2018 that focused on Russia, following the poisoning in Salisbury, England of ex-Russian agent Sergei Skripal.
The UK prime minister was foreign secretary at the time. Lebedev's son, Evgeny Lebedev, owns Britain's Independent and Evening Standard newspapers.
In an article published in The Mail on Sunday, Lebedev junior denied earlier reports that the Russians had obtained "Kompromat", evidence of improprieties that they can blackmail politicians with.
"I am proud to be a friend of Boris Johnson, who like most of my friends has visited me in Umbria," he wrote.
"And I hate to disappoint, but nothing happens there that produces Kompromat."
However according to the legendary investigative journalist John Sweeney, MI6 were concerned that Johnson also attended Russian parties at Lebedev's villa attended by beautiful young Russian women, compromising UK security.
And if all that wasn't enough for Boris to worry about, Brexit Party leader and close ally of President Trump, Nigel Farage, has accused the Conservative Party of trying to bribe his party members with jobs if they stood aside as candidates in the upcoming election.
"It's corruption. What shocks me is how little shock there is about it" he told BBC Radio.
"What it does show is how rotten and broken our politics have become and why it needs major change."
With his party registered as a private company, with financial support coming from the US, there are also questions as to how much money Farage has personally made from his Brexit crusade.
Copyright (c) 2019. South China Morning Post Publishers Ltd. All rights reserved.