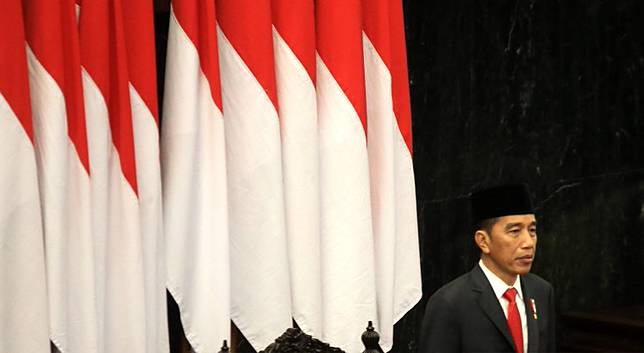 After giving carrots in the form of Idul Fitri allowances as 13th-month salaries last year, reelected President Joko "Jokowi" Widodo has found an ideal time to unveil the stick he needs to boost the performance of the 5.5 million-strong bureaucracy. In his inaugural speech on Sunday, Jokowi revealed a plan to halve the civil service echelons and encourage functional, rather than structural, careers.
The impact of the radical change would be overarching as tens of thousands of officials would lose their posts, authority and facilities. Had the initiative been announced last year, Jokowi could have put his reelection bid on the line.
Bureaucratic reform that was started two decades ago has not really born fruit. The bureaucracy has been part of the problem, rather than the solution, in public services delivery. Indonesia Corruption Watch found in 2016 that 47 percent of corruption cases investigated by law enforcers involved civil servants. Since the reform movement in 1998, more than 3,400 civil servants have been entangled in graft cases, not to mention complaints filed with the Ombudsman against the quality of their services.
Hopes abounded at the end of the Susilo Bambang Yudhoyono administration when Law No. 5/2014 on the civil service came into effect. Many expected the landmark legislation to lay a foundation for a professional merit-based bureaucracy. However, the five years of Jokowi's first term turned out to be a waste of momentum. The Yudhoyono administration prepared six draft government regulations to implement the 2014 law, including those related to meritocracy and structural and functional posts, but three administrative reform ministers under Jokowi failed to finish the drafts.
Jokowi's big dream of sweeping bureaucratic reform would actually fulfill his broken promise. There is no more excuse for him to squander his last chance, especially as the Indonesian bureaucracy has been notorious for its low efficiency. With no drastic change in the bureaucracy, Jokowi's vision of leading Indonesia's march into the league of high-income countries would be at risk.
Public administration professor Eko Prasojo finds inefficiency a systemic disease, stemming from an overly bulky organizational structure and a lack of performance management. The first has resulted in overlapping jobs and overspending on salaries and benefits, the second in low productivity as the mediocre beat the experts only because of loyalty to the boss. To realize his plan, however, Jokowi must lead by example. The Cabinet that he is forming and is expected to unveil on Wednesday, should be made as slim as possible in order to translate his wishes for an effective and fast-moving government.
Jokowi's first Cabinet comprised 34 ministries, 28 non-ministerial government agencies and 91 nonstructural agencies, which did not reflect efficient government principles. Such a big structure may be replicated, however, because of his intention to accommodate the interests of political parties.
Radical bureaucratic reform would remain elusive, too, if Jokowi fails to choose the right men or women for the right places. His preference of politicians to be administrative reform ministers from 2014 to 2018 played a part in the stagnant formulation of the much-needed government regulations to fully implement the 2014 Civil Service Law.