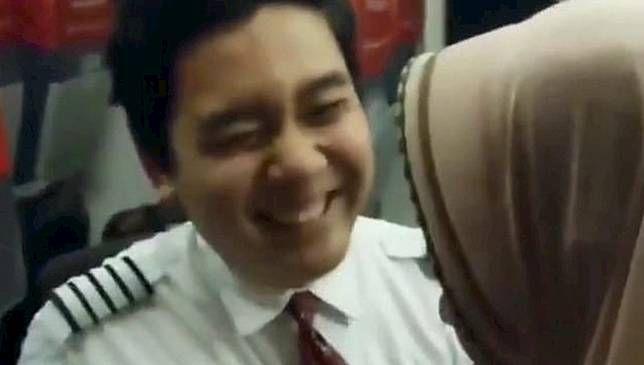 Find a flight attendant who smiles at you the way this guy smiles at an old lady, and you'd be in for a comfortable flight, budget carrier or otherwise.
Recently, a couple of videos have gone viral on social media in Indonesia, depicting an unidentified Lion Air flight oozing with warmth and wholehearted sincerity as he assisted an elderly female passenger who appeared to be in need of special care.
Dear @LionAirID, kalian harus beri penghargaan untuk mas ini.

Dear Mas Mugara Lion Air, siapapun kamu, kamu adalah contoh Flight Attendant yang sangat sempurna.

Semoga berkah dan menjadi pahala untuk kamu ya, Mas!! pic.twitter.com/PL22dPX8q8

— Coklat Strawberry 🍫🍓 (@the4rel) November 17, 2019
Mas, apakah kamu merindukan Ibu kamu?? Kamu begitu telaten membantu Ibu tua ini.

Surga untuk kamu, Mas!! pic.twitter.com/LwPizYYuZM

— Coklat Strawberry 🍫🍓 (@the4rel) November 17, 2019
"Dear Lion Air flight attendant, whoever you are, you exemplify the perfect flight attendant," the user above tweeted, adding, "Do you miss your own mother? You are so meticulous in helping this old lady."
He may be doing his job, but the flight attendant never once looked like he was the slightest bit burdened. To top it off, he's won over the internet with his gentle and genuine smiles as he assisted the old lady by feeding her and wiping her face — as if she was his own grandmother.
Orang itu bisa kelihatan watak aslinya dari tatapan mata, dan binar mata mas ini memang terlihat tulus, juga senyumannya yang menambah terlihat tulus.

Semesta butuh orang-orang seperti mas ini.

— Zy. (@akarfikir) November 17, 2019
We can see people's true selves by their eyes, and the sparkle in this man's eyes is genuine, and he looks even more genuine with his smile. The universe needs more people like this.
Buat kaum hawa ….type laki 2 seperti ini lah yang perlu kalian cari untuk jadi jodohmu , sayang pada siapa saja . Apalagi kepada yg ia cintai …. pic.twitter.com/Eu4vQc0FLP

— Fransiskus W I D O D O (@bengkeldodo) November 18, 2019
For women, men of this type is what you should look for as a partner. He loves all, and especially those he loves.
Mata gw berkaca kaca 😭
Makasih mas udah share videonya
Jadi kangen nenek dirumah
Dia tingkahnya udah kaya anak kecil lagi, manja dan butuh perhatian lebih. Pernah aku suapi juga tapi makanya milih2, kesel sih tapi seneng 🤗

Pulang nanti mau makan bareng lagi 🤗🤗🤗

— Jajang Jenudin (@JajangJenudin) November 17, 2019
I'm tearing up. Thanks for sharing the video. I miss my grandmother at home. She's like a kid again now, clingy and needs extra attention. I fed her once but she was picky, it was testing but it made me happy. When I go home I want to feed her again.
somebody get that guy a raise!

— โดดี้ ปริอัมโบโด (@priambodo) November 17, 2019
It's not clear when the videos were taken, but, at the time of writing, the tweets above have been retweeted over 25 thousand times since it was posted yesterday evening. 
Lion Air has yet to comment on the viral videos. We'll update this story as soon as we get confirmation on the flight attendant's identity from the airline or elsewhere.