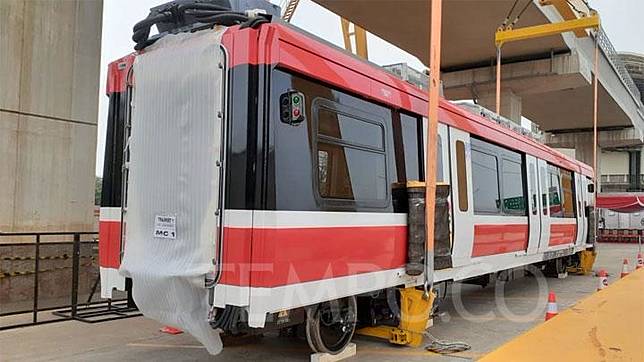 TEMPO.CO, Jakarta - The construction progress of the Greater Jakarta LRT (light rail train) project phase I is 66.13 percent completed. The contractor, Adhi Karya, has also received a fourth payment for the project's work, amounting to Rp1.4 trillion.
Adhi Karya finance director Entus Asnawi said that progress for service line one, Cawang-Cibubur, had reached 85.7 percent. For service line two, the Cawang-Kuningan-Dukuh Atas route is 56.1 percent completed, while the work progress for service line three, Cawang-Bekasi Timur, is 59.5 percent.
The total payment received by Adhi Karya from the Jabodetabek LRT construction is Rp8.3 trillion. The LRT construction contract value is Rp20 trillion.
The LRT, said Transportation Minister Budi Karya Sumadi, is targeted to be fully operational in November 2021.
"This is not just a state budget project, but a collaboration of several ministries such as the SOE and Transportation [department]," he said.
The minister said that the estimated tariff each LRT ride is Rp12,000. "That is a subsidized fare because the commercial fare is Rp25,000. The government is subsidizing 50 percent," he said.
Budi added that the estimated fare of the LRT ticket price could later change. "There could be adjustments, that [figure] is temporary," he said.
TEMPO.CO