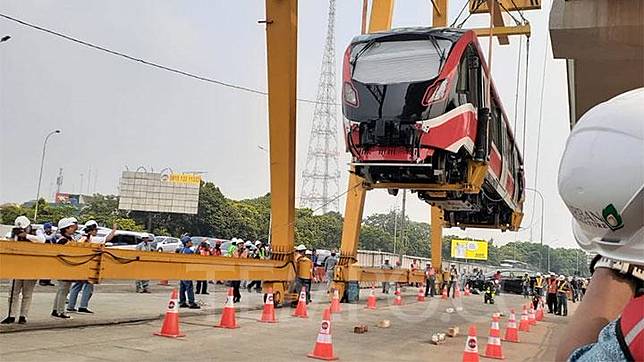 TEMPO.CO, Jakarta - Light rail transit or LRT Jabodebek of the Cibubur-Dukuh Atas route is targeted to run its operation in 2021. Coordinating Minister for Maritime Affairs Luhut Binsar Pandjaitan said that the modern transit would able to accommodate 250 passengers in a car within three-minute headways.
Luhut outlined that should a train set has six cars, the LRT will board 1,500 commuters in one trip. "If we have 31 trainsets, just calculate the figures," said Luhut during the first car lifting procession at Harjamukti Station, Cibubur, Sunday, Oct. 13.
On the same occasion, Transportation Minister Budi Karya Sumadi predicted that the ticket price will be set at Rp12,000 per passenger. "The price has been subsidized. The initial commercial rate is Rp25,000," he affirmed.
Therefore, the government is planning to provide a subsidy through public service obligation at 50 percent. The ticket fare, he added, will be valid for all destinations.
Budi Karya added that the rate was subjected for a change considering it is adjustable to the market condition. "It may be changed. This is just a temporary calculation," he said.
The construction of LRT Jabodebek project facilities was still afoot by PT INKA in tandem with PT KAI and PT LEN, while the infrastructures are being built by PT Adhi Karya. The project applied the government-to-business partnership cooperation (KPBU) as the financing scheme, so the domestic component or TKDN is considerably high at about 60 percent.
FRANCISCA CHRISTY ROSANA