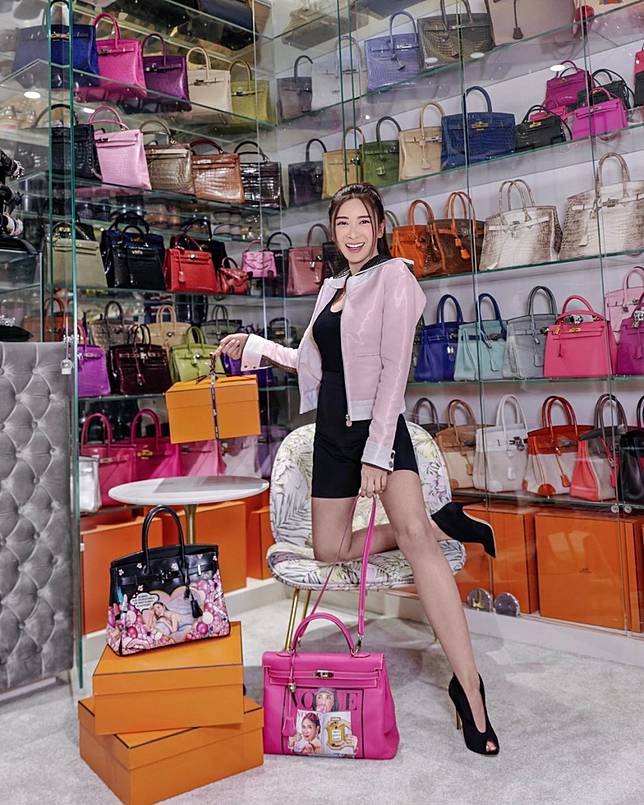 Everyone from YouTube sensations to socialites have coveted HermEs' Birkin and Kelly bags, and these collectors hope to own every shape, size and colour imaginable
Known as the ultimate "it" bags, HermEs infamous Birkin and Kelly handbags are the holy grail of luxury purses. While some dream of owning just one of these statement pieces, others, such as the three serious collectors below, are in constant pursuit of growing their HermEs collections. Here, we take a look at some of the most extreme, enviable and expensive HermEs collections in the world.
Jamie Chua
A post shared by Jamie Chua 蔡欣颖 (@ec24m) on Aug 24, 2019 at 9:25pm PDT
Arguably the owner of the world's largest HermEs collection, Singaporean flight attendant-turned-socialite Jamie Chua is not shy when it comes to showing off her love for the bags. A video tour of her fingerprint-locked walk-in wardrobe reveals the extent of her collection. From the coveted Himalayan diamond Birkin to her cute line-up of mini Kelly bags, Chua's collection is every HermEs fan's dream come true.
Chua recently offered an updated look at her wardrobe and her famous and impressive bag collection.
Why Apple Watch HermEs Series 5 is an iconic collaboration
Jeffree Star
A post shared by Jeffree Star (@jeffreestar) on May 10, 2019 at 11:09am PDT
Jeffree Star found fame online first as a musician and then a YouTube personality specialising in beauty content. Starr has since developed his own line of cosmetics, has a reported net worth of US$50 million.
He's worked hard to earn his collection of candyfloss coloured HermEs bags in every size and leather imaginable. All housed inside his pink wardrobe, Star's admirable collection of high fashion goods and fabulous clothes channels the inner Barbie in all of us.
Kylie Jenner
A post shared by Kylie (@kyliejenner) on Mar 10, 2018 at 3:43pm PST
This purse wardrobe video tour from a year ago shows Kylie Jenner's extensive collection of HermEs bags, including many exotic leather numbers. We can only imagine how her collection has grown since then. If only we could all be as lucky as her daughter, Stormi, who'll undoubtedly have plenty to borrow from her mother's wardrobe.
How billionaire Kylie Jenner spends her fortune
Want more stories like this? Sign up here. Follow STYLE on Facebook, Instagram, YouTube and Twitter
Copyright (c) 2019. South China Morning Post Publishers Ltd. All rights reserved.