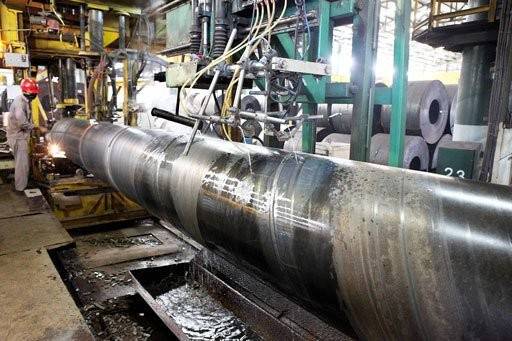 State-owned steelmaker Krakatau Steel reported its first profit in eight years, thanks to its continuous measures to lower expenses.
The company booked US$74.1 million in profit in the first quarter this year, a major switch from the $62.3 million loss it suffered in the same period last year, as its cost of revenue as well as general and administrative expenses dropped 39.8 percent and 41.5 percent respectively.
Krakatau Steel president director Silmy Karim attributed the positive performance to the company's concerted move to improve its performance since last year.
"The company has taken several measures to improve its performance such as through [debt] restructuring and transformation," he said in a statement on Friday.
Earlier this year, Krakatau Steel received the green light from its creditors, mainly local banks such as state-owned Bank Mandiri and Bank Negara Indonesia, to restructure its loans totaling $2 billion in its bid to avoid bankruptcy.
Silmy said earlier this year that the debt restructuring would cut interest payments to $466 million from $847 million. It is also expected to slash costs by around $685 million until 2027.
The steelmaker also mentioned that the move to optimize its workforce, lower energy costs and slash spare part costs also contributed to the profit.
Krakatau Steel's operating expenses in the first quarter this year dropped 31 percent year-on-year (yoy) to $46.8 million. In total, the company claimed it had saved $130 million between January and March this year.
However, Silmy expected the current economic condition induced by the COVID-19 pandemic to affect the company's future performance this year.
"Second quarter performance is expected to be different as the steel market weakened by 50 percent amid COVID-19 pressure," he said.
Steelmakers are facing severe blows to their business demand during the COVID-19 pandemic.
The low demand is partially due to the large-scale social restrictions (PSBB) imposed by the government to contain the virus, which has led to the closure of businesses, including major steel-consuming businesses in the automotive and construction industries.
"A weakening national economy has had a severe impact on the steel industry. If it continues further then we expect it will have a severe impact on [the company's] full-year performance," Silmy added.
Krakatau Steel shares had risen 7.5 percent in Friday trading as of 13:08 p.m.