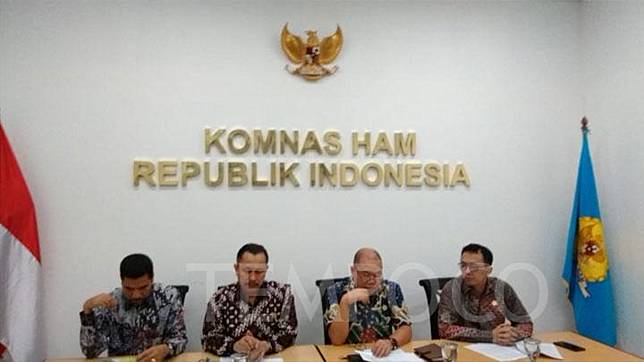 TEMPO.CO, Jakarta - Human rights group Komnas HAM (The National Commission on Human Rights) argues that the decision taken by Bantul Regent Suharsono to revoke the permit of a church, Gereja Pantekosta di Indonesia (GPdI) Immanuel, is legally ungrounded.
One reason challenging the Regent's decision is that the church has obtained a building permit (IMB) on January 15, 2019, from the Integrated Investment and Service Office.
Komnas HAM commissioner Beka Ulung Hapsara said he has met with the church's priest Tigor Yunus Sitorus on Thursday, July 25, after numerous rejections from the church's vicinity. He deemed that the church passed the entire legal procedure needed to file for a permit on constructing a house of worship.
Furthermore, Beka said that Bantul Regent's decision to revoke the permit is against the country's constitution where the State guarantees and protects the religious freedom of its people.
"The Regent must annul his decision since it is legally unfounded," said Beka in a call on Tuesday, July 30.
He deemed the regent has committed a great setback in the journey to respect people's religious freedom that is guaranteed by the constitution.
The Komnas HAM chairman claims he had attempted to reach out to the regent of Bantul and his deputy but was unfortunately not responded by both men.
Previously, Bantul Regent Suharsono claims to have revoked the permit of the church because; "There are some elements [of the church] that are not fulfilled legally," said Suharsono at the Bantul administration office on Monday, July 29.
SHINTA MAHARANI (CONTRIBUTOR)