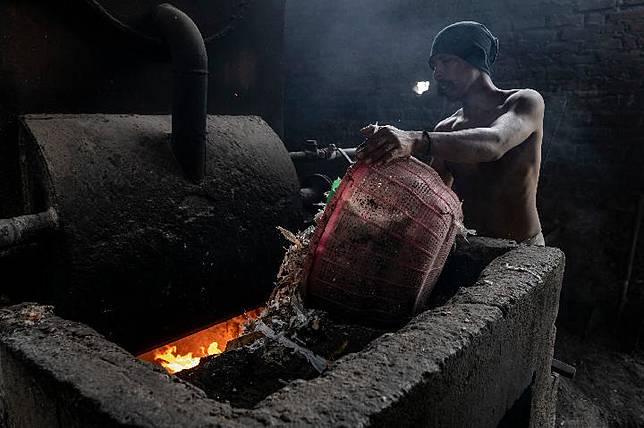 TEMPO.CO, Surabaya -The Ecological Observations and Wetlands Conversation (Ecoton) staged a protest before Grahadi Building, Surabaya, Tuesday, November 19, demanding East Java Governor Khofifah Indar Pawaransa tackle environmental pollution in two villages in Sidoarjo and Mojokerto, which was caused by imported plastic waste.
"We want to show that East Java does not what Khofifah thinks. We find dioxin contamination. This indicates that East Java areas are harmed due to the burning of plastic over the years," said Ecoton director Prigi Arisandi.
Ecoton along with International Pollutants Elimination Network (IPEN), Arnika Association, and Nexus3 recently released the result of their research on wild chicken eggs at Tropodo Village of Sidoarjo and Bangun Village of Mojokerto. The study revealed that the eggs contaminated with 16 toxins from plastic waste, one of them was dioxin.
The dioxin level was even at the second-highest in Asia reaching 200 pg TEQ g-1 fat, after the Bien Hoa site in Vietnam that was exposed to the US toxic chemical Agent Orange. The chemical exposure is linked to various diseases, such as cancer, diabetes, early menopause, up to immune system changes.
Ecoton also considered Khofifah's responses toward the study result inappropriate. The governor visited chicken egg farmers in Malang and called on them to consume eggs. "That is not related to the plastic issue in East Java," Prigi remarked.
The governor, he added, should have conveyed her concerns, pledged to conduct a study, and seek solutions.
Prigi opined that this problem was caused by the paper waste imports committed by paper firms in the region. The imports had been used as a modus operandi to smuggle plastic trash.
The plastic waste combined with scrap paper was sold to trash collectors, including those in Bangun Village. Non-recyclable trash was then sold again to tofu factories in Tropodo Village for fuel.
NUR HADI