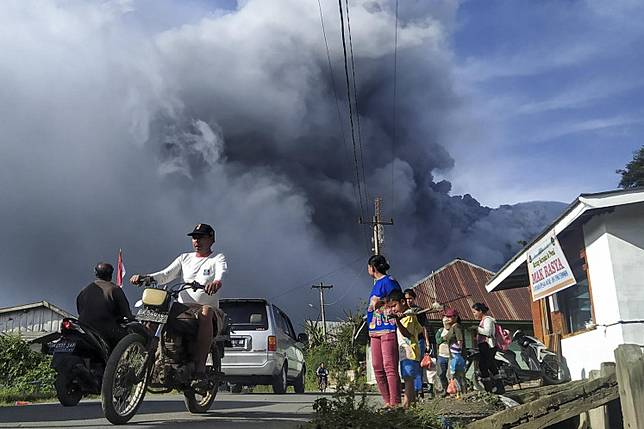 Farmers in Karo regency, North Sumatra, suffered up to Rp 41.8 billion (US$ 2.8 million) in losses as their crops were heavily affected by volcanic ash from the eruption of Mount Sinabung, says Karo Agriculture Agency head Metehsa Karo-Karo.
Metehsa said the loss was calculated after assessing damaged crops on 1,438 hectares of land in several districts, such as Namanteran, Merdeka, Berastagi and Dolat Rayat.
"As many as 23 types of horticultural commodities were damaged due to exposure to volcanic ash from Mt. Sinabung. The total losses amounted to Rp 41.8 billion," Metehsa told The Jakarta Post on Thursday.
The volcano erupted several times on Thursday, and more eruptions occurred again on Friday with one of them producing a 2,100-m-high column of ash, according to the Volcanology and Geological Hazard Mitigation Center (PVMBG).
Metehsa went on to say that the damaged commodities included red chillis, tomatoes, potatoes, cabbages, cauliflowers, napa cabbages, string beans and bird's eye chilis. Among these commodities, red chillis suffered the most with total losses of Rp 12 billion.
Read also: Mount Sinabung blasts tower of smoke and ash into sky
He said he was worried the farmers would lose more as the mountain was still erupting. 
Farmer Peraturen Sembiring is among those affected by the eruption. The 46-year-old farmer had to clean volcanic ash from his produce following Thursday's eruption. 
Although some of the produce could be saved, Peraturen said he lost a huge amount of crops as they were heavily affected by the ash.
"I was planning to plant cauliflowers in the field this morning, but the eruption occurred before I got to do that. The volcanic ash hit the field, the plants were damaged so I could not harvest them," said the farmer.
Peraturen further said he had lost about 4,000 cauliflowers due to the ash. In total, he suffered Rp 10 million in losses following the eruptions.
Read also: Mount Sinabung erupts again after year of inactivity
The PVMBG official and personnel of the Sinabung observation post, Armen Putera, said on Thursday that there was potential for more eruptions.
Armen said Sinabung erupted at least four times on Thursday. Each eruption had a different height in the ash column.
"We recorded four eruptions [on Thursday] in the seismograph. The longest eruption occurred for 20 minutes at 1 p.m," Armen said.
Amid the eruptions, Armen urged the public and tourists to stay outside a 3-kilometer radius from Mt. Sinabung's peak as well as a 5-kilometer radius from the southeast sector and a 4-kilometer radius from the northeast sector.
"The mountain is still dangerous, so please heed the warning and refrain from entering the danger zone," Armen said. (dpk)