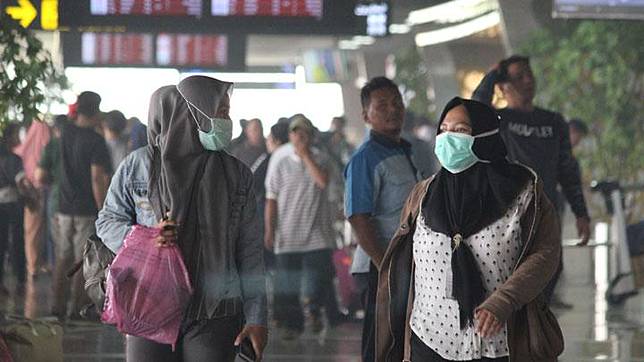 TEMPO.CO, Kubu Raya - Thick smog from forest and land fire is still shrouding West Kalimantan, including Supadio International Airport Pontianak, Monday, September 16. The visibility is 550 meters, so no flight is allowed for landing.
"The visibility distance is below safe flight standard, which is minimum at 1,000 meters," said the acting head of Supadio Airport's operational unit Didi Herdiansyah in Kubu Raya. Monday.
Didi said four flights were initially scheduled to land in the airport. "But because of low visibility due to smog, there is no flight landing until now. Even several previous flights propose cancelation and so, there is no flight schedule here on the grounds of weather," he said.
So far, he added, only one flight took off today morning, which was Garuda Indonesia heading to Jakarta. "G501 flight with Pontianak-Jakarta route at 06:34 a.m," Didi said.
Throughout Sunday, a total of 37 flights, 19 departures and 18 arrivals, were canceled, while 13 flights others (six departures and seven arrivals) in Supadio were delayed.
He hoped all parties hand in hand prevent forest and land fire as the impact severely affect public activities including in airports. "We all have felt the impact of smog. We hope we are all concerned about it. Hopefully, rains will fall in the near time so fire sources can be put out," Didi said.
ANTARA