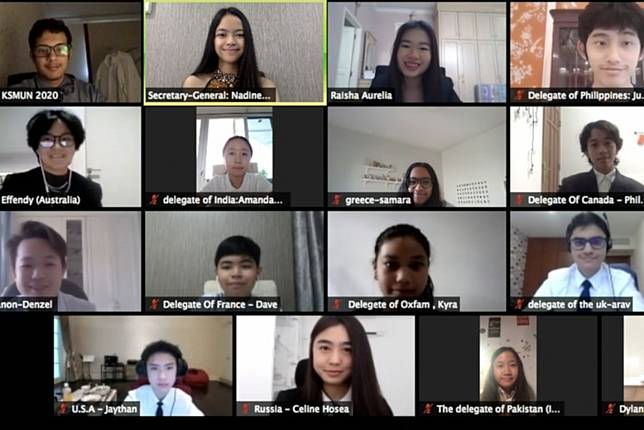 Indonesian junior high school student Nadine Kei Inara recently simulated an international UN conference on refugee issues.
The event, called Kaleidoscope Model United Nations (KSMUN), was held by video conference from July 11 to 12 and was attended by more than 70 students from seven countries, including the United Arab Emirates, Singapore, Canada, Nigeria, South Africa and India.
Nadine, a 14-year-old student of National High Jakarta School in West Jakarta, said the event was supported by the United Nations High Commissioner for Refugees (UNHCR).
"The conference was created because of drive and passion to keep students motivated to continue learning, stay productive and be creative, while staying safe during the global COVID-19 pandemic. We really hope that this event inspires delegates worldwide and enriches the global network between high school students and universities," said Nadine, who is also the founder and secretary general of KSMUN, in a statement.
"With our theme this year, 'Shifting Global Paradigms', KSMUN seeks to bring together passionate individuals and piece together their diverse perspectives to spark change, shift paradigms and form the ultimate picture in the face of adversity – adversities which have stemmed from unjust stigmas and prejudices, the very things that have become the root causes of the problems refugees and stateless people face," she added.
Kasita Rochanakorn, communications officer for the UNHCR's Regional Bureau for Asia-Pacific, said that UNHCR supported and appreciated the event, especially as it helped students learn and understand international issues from an early age and trained them to provide solutions to problems.
All proceeds from the event were donated to UNHCR for the rehabilitation of refugees, stateless people and asylum seekers worldwide.
Supported by the UN, KSMUN is part of the Model United Nations refugee challenge by UNHCR, which encourages participants to propose their own solutions and ideas during conferences. (wir/kes)