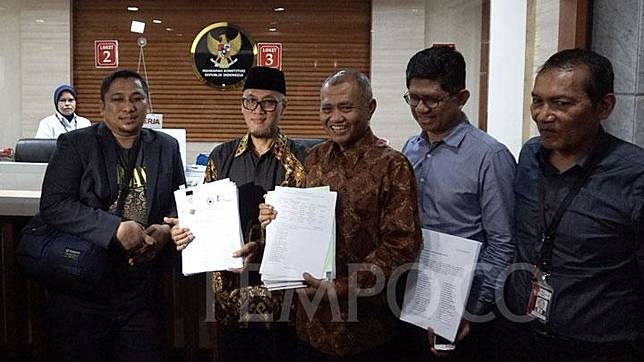 TEMPO.CO, Jakarta - The Corruption Eradication Commission employee's association (WP KPK) praised the initiative of KPK leaders and national figures to lodge a judicial review against the newly-amended KPK Law. They opined the suit was the only way to save the anti-graft body.
"That is an act of statesmanship representing Indonesian people who concern about the efforts to combat corruption when the institution is weakened," said the association's head Yudi Purnomo Harahap in a written statement, Thursday, November 21.
Moreover, Yudi added that President Joko "Jokowi" Widodo said he waited for the Constitutional Court's ruling to pass regulation in lieu of law or Perpu. Thus, they assessed that judicial review would be the only way to keep efforts tackling corruption continue.
Previous reports suggested that three leaders of the anti-graft body visited the Constitutional Court Building in Jakarta to challenge Law 19/2019.
They are Agus Rahardjo, Laode M Syarif, and Saut Situmorang. They filed the petition under their names, the coalition of civil society groups consisting of 13 anti-corruption activists, including the KPK ex-commissioner Erry Riyana Hardjapamekas and ex-deputy chairman Moch Jasin.
"We come here under personal names and citizens to file judicial review. We are supported by 29 attorneys," said Agus Rahardjo.
FIKRI ARIGI