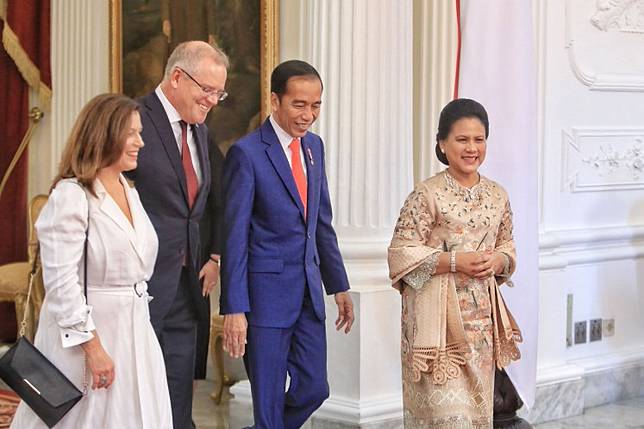 Leaders from ASEAN countries, Australia and Swaziland made courtesy calls on President Joko "Jokowi" Widodo on Sunday at Merdeka Palace in Jakarta to congratulate him ahead of his inauguration for his second term in office.
Australian Prime Minister Scott Morrison and his wife, Jenny Morrison, as well as Singaporean Prime Minister Lee Hsien Loong and his wife, Ho Ching, were among the foreign leaders who visited on Sunday.
Jokowi, accompanied by First Lady Iriana Widodo, also welcomed Brunei Darussalam's Sultan Hassanal Bolkiah, Cambodian Prime Minister Hun Sen as well as Swaziland's King Mswati III and Queen Siphelele Mashwama at the palace.
Retno Marsudi, Pratikno and Pramono Anung, respectively foreign minister, state secretary and cabinet secretary of Jokowi's first term, accompanied the incumbent in welcoming the visiting leaders.
Speaking afterward, Retno said that the foreign leaders expressed their wish to deepen bilateral ties with Indonesia, a sentiment that Jokowi shared.
"The President also conveyed his gratitude for the state leaders' visits, some of who came from very far to attend the inauguration," said Retno. "And he [Jokowi] also expressed a similar commitment that going forward, Indonesia would also strengthen bilateral ties with their respective countries."
Improving economic cooperation was a key point in the separate discussions Jokowi had with the Singaporean and Cambodian leaders, she added.
"[Prime Minister Lee] talked specifically about how to develop our cooperation in the digital economy,. Meanwhile, with Cambodia, we talked about our economic relations," she said, and that President Jokowi stressed the strengthening of economic ties.
During his discussion with Swaziland's King Mswatini III, Retno said that the incumbent expressed Indonesia's interest in assisting with infrastructure development in the African country as a foreign policy initiative.
In recent years, Indonesia has been seeking to expand its trade and investment portfolio in nontraditional markets like Africa.
Meanwhile, South Korea's Presidential Chief of Staff Noh Young-min, who was sent to Jakarta to attend the inauguration ceremony on behalf of President Moon Jae-in, took to Twitter to congratulate Jokowi in both Indonesian and Korean.
"I congratulate President Jokowi on your inauguration. I hope [South] Korea and Indonesia will keep working to achieve shared prosperity by combining the visions of 'Indonesia Maju' and 'New Southern Policy' as we have done," Moon posted in the tweet.
Moon was referring to a strategy Seoul introduced in late 2017 to boost its ties with ASEAN and India as key partners in Asia.
Jokowi is scheduled in the evening after the inauguration to receive United States Transportation Secretary Elaine L. Chao, Philippine Foreign Minister Teodoro Locsin Jr., Japanese Parliamentary Vice Minister for Foreign Affairs Nakayama Norihiro and United Arab Emirates Minister of Tolerance Nahyan Mubarak Al-Nahyan.
Jokowi also welcomed a number of foreign dignitaries at the Merdeka Palace following his first inauguration in 2014, which included Singaporean Prime Minister Lee, as well as then-Australian prime minister Tony Abbott, then-US secretary of state John Kerry and then-Malaysian prime minister Najib Razak. (dis)