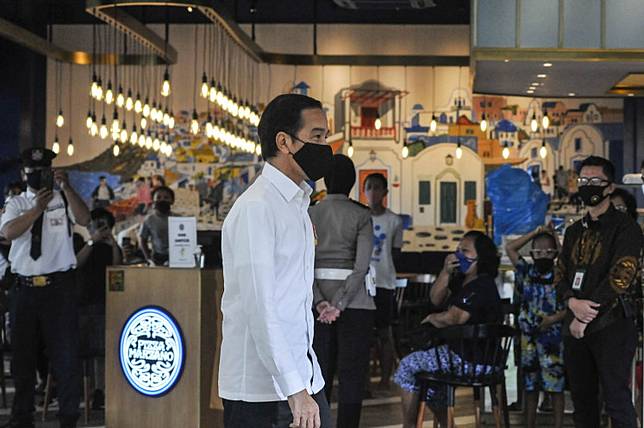 President Joko "Jokowi" Widodo visited Summarecon Mall in Bekasi, West Java, on Tuesday to take a look at the mall's preparations for its upcoming reopening under the so-called "new normal" health protocols.
"I come to Bekasi today to ensure our readiness for the 'new normal' as we want to stay productive while also remaining protected from the virus at the same time," Jokowi said.
The President visited the mall along with West Java Governor Ridwan Kamil, Bekasi Mayor Rahmat "Pepen" Effendi, Indonesian Military (TNI) commander Air Chief Marshal Hadi Tjahjanto and National Police chief Gen. Idham Aziz.
Ridwan said that many subdistricts in West Java had turned from COVID-19 red zones to green zones, which means the transmission in the area has been largely controlled and therefore, the areas could start adapting to the new protocols.
Pepen revealed that 50 out of 56 subdistricts in Bekasi had been declared green zones including North Bekasi subdistrict where the Summarecon Mall is located.
He added that the virus transmission rate in the city had decreased as a result of the city administration's implementation of large-scale social restrictions (PSBB).
"That's why the virus is less contagious here with an R0 of 0.71 [less than one person on average is being infected by other infected people] and we're gradually reopening the economy," Pepen said.
He said that malls in Bekasi were allowed to open on June 4 at the earliest, but are required to operate at 50 percent of their capacity.
"For example, if the normal capacity is 10,000, now they should only allow 5,000 people to enter. The security will count and limit the number of mall visitors," Ridwan said, adding that all visitors must wear masks.
The director of PT Summarecon Agung, Adrianto Adhi, said that his management was currently preparing the COVID-19 precautions in adherence to the new normal guidelines issued by Health Minister Terawan Agus Putranto on Saturday.
The management plans to open Summarecon Mall on June 8.
Earlier on Tuesday, Jokowi announced that TNI and National Police personnel would be deployed to guard crowded places such as malls in preparation for the new normal.