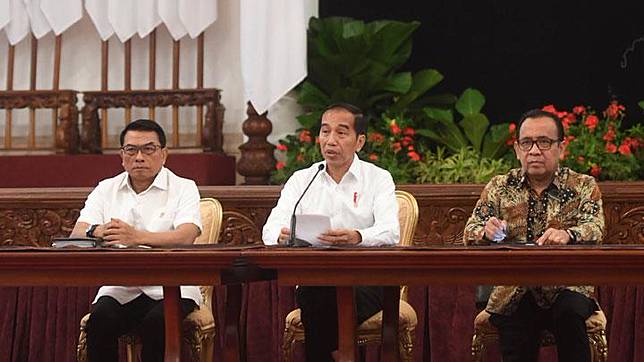 TEMPO.CO, Jakarta - President Joko "Jokowi" Widodo will reportedly hold a meeting with commissioners of the Corruption Eradication Commission (KPK) today, September 16.
The meeting is scheduled to take place in State Palace for talks about the draft revisions of the KPK Law.
Tempo's source at State Palace could not confirm about the agenda. However, "there is a planned meeting [with KPK leaders]. I don't know about [the time] yet. It is still under confirmation," he said on Monday, September 16.
A pro-government party politician revealed that the meeting of the President and five KPK commissioners for the 2015-2019 period will be held on Monday, September 16, in State Palace.
"But I don't know if the schedule is changed," said the politician on Sunday, September 15.
He reiterated that the President will share his thoughts about the anti-graft body's work and materials of the law revisions based on the government's version. "There are still a few revisions."
Meanwhile, KPK higher-ups have not yet responded to Tempo's questions in light of the planned meeting today with President Jokowi.
Previously, KPK chairman Agus Rahardjo said that he entrusted the responsibilities of the anti-graft body to the President since his side was not involved in discussions about the revision of Law No. 30/2002.
FRISKI RIANA | ANDITA RAHMA | JOBPIE S| ROSSENO AJI