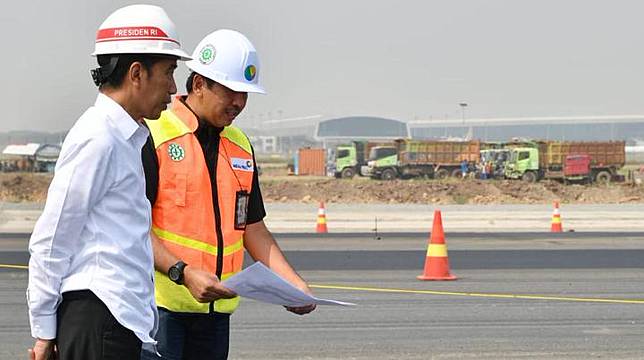 TEMPO.CO, Jakarta - Commission for Missing Persons and Victims of Violence (KontraS) Head of research Rivanlee Anandar criticized Coordinating Minister Mahfud Md's claim on zero human rights violations during President Joko "Jokowi" Widodo's first term in office.
"Stating that no violation of human rights occurred post the reformation is a misleading narrative," said Rivanlee in a press release on Thursday, December 12.
In November 2019, National Human Rights Commission (Komnas HAM) made several notes about the government of Jokowi. It claimed to have received many public complaints about conflicts in natural resources related to rampant infrastructure development.
The following are several infrastructure projects that were indicated to violate human rights during Jokowi's first term, based on Tempo's observation:
1. Kertajati Airport in Malalengka, West Java
A clash broke out between hundreds of Sukamulya residents rejecting the land measurement for Kertajati Airport and some 1,500 police and military personnel at the airport on November 17, 2016. Dozens of people sustained injuries, and three residents were arrested.
2. New Yogya International Airport in Kulon Progo, Yogyakarta
The construction of the new Yogyakarta airport was met with rejection from residents and farmers. On December 5, 2017, authorities committed repressive acts during the mass protest.
Dozens of residents and volunteers were nabbed by the police for obstructing the construction process. The land clearing was preceded by forced eviction done by airport operator AP I against residents who insisted to stay in Temon areas.
3. PT Semen Indonesia factory in Kendeng, Central Java
The construction project of a cement factory belonged to PT Semen Indonesia in the hills of Kendeng was protested by farmers. In 2016 and 2017, they even cast their feet with cement before State Palace, demanding President Jokowi halted the project.
Komnas HAM's study from June 2015 to August 2016 revealed indications of human rights violations in the project, such as causing adverse impacts on the public rights for health, environment, and water, and threatening the sustainability of the function of karst areas.
FIKRI ARIGI