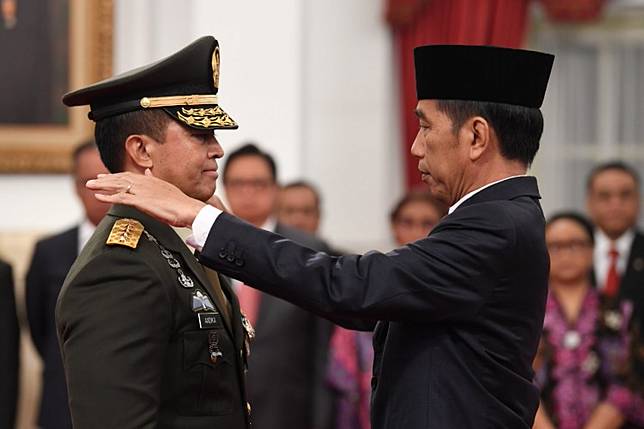 President Joko "Jokowi" Widodo has appointed Army chief of staff Gen. Andika Perkasa as the deputy head of the government's COVID-19 handling and national economic recovery committee.
The army general will work alongside State-Owned Enterprises (SOEs) Minister Erick Thohir, who was appointed to helm the committee.
Erick said Jokowi had appointed Andika to assist him because the President thought the Indonesian Military (TNI) should be involved in handling the pandemic. The military would work to discipline the public in adhering to the strict health protocol, he added.
"Disciplining the public is the key to public safety, but that doesn't mean we will punish them," Erick said on Friday, as quoted by kompas.com.
Read also: 'No hope for public health': Lawmakers slam govt's COVID-19 economic recovery committee
The minister added the TNI would also help to ensure the vaccination process once a coronavirus vaccine was ready for mass production.
The COVID-19 handling and national economic recovery committee was formed as mandated by a presidential regulation on COVID-19 mitigation and national economic recovery signed by President Jokowi on July 20.
The committee was tasked with streamlining bureaucratic procedures related to the mitigation of the pandemic and the economic downturn resulting from the health crisis.
It comprised two task forces: the national COVID-19 task force with National Disaster Mitigation Agency (BNPB) chairman Doni Monardo as its leader, and the economic recovery task force led by Deputy SOEs Minister Budi Gunadi Sadikin. (dpk)