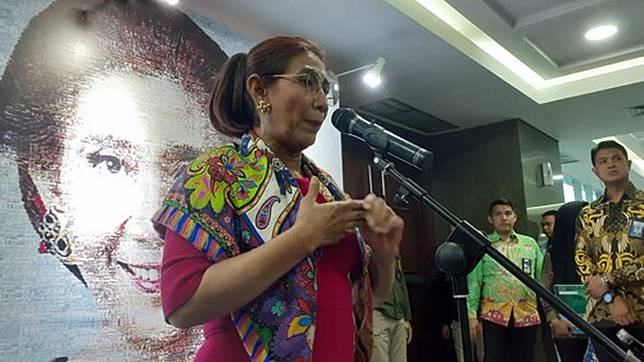 TEMPO.CO, Jakarta - Maritime Affairs and Fisheries (KKP) Minister Susi Pudjiastuti seemed to have predicted that she would no longer serve as a minister in President Joko Widodo or Jokowi's new cabinet. Through her post on Instagram, Susi wrote a farewell message and poured her feelings during the past five years as a minister.
"It has been five years of togetherness with the family of KKP, leaving many unforgettable memories and impressions," said Susi on her account @susipudjiastuti115.
Since Monday, October 21, the President had summoned several entrepreneurs and politicians to fill in his second-term cabinet. However, Susi did not show up at State Palace.
According to the Gerindra Party's supervisory board member Habiburokhman, Jokowi would possibly appoint Edhy Prabowo as Susi Pudjiastuti's successor. However, Habiburokhman called on all to wait for the President's official announcement tomorrow, October 23.
"I don't know about it, but based on information I've heard today, [Edhy will serve as] a maritime minister. But the palace will announce it on Wednesday. Let us wait, have a little patience," said Habiburokhman at Parliament Complex, Senayan, Jakarta, Tuesday, October 22.
Gerindra's deputy chairman Edhy Prabowo was so far rumored to be agriculture minister. However, Habiburokhman said that Edhy also had competence in maritime affairs and fisheries.
BUDIARTI UTAMI PUTRI