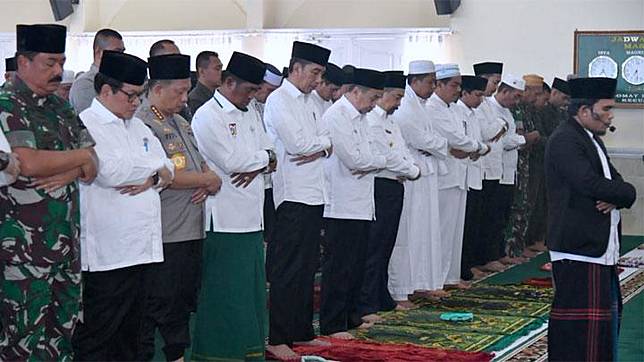 TEMPO.CO, Jakarta - President Joko "Jokowi" Widodo inspected two locations of land and forest fires in Riau Province, namely Bunut sub-district, Pelalawan Regency and Tambang subdistrict, Kampar Regency.
The head of Presidential Press, Media, and Information Bureau Secretariat, Erlin Suastini, said that before departing to the area, the President performed Istisqa prayer, a prayer to ask Allah for rain, in Amrullah Mosque, the Roesmin Nurjadin Air Base Military Complex, Pekanbaru City.
"The prayer is led by Khairunnas Jamal, and the speaker is HM Fakhri," said Erlin in a press release today, September 17.
State officials joining the prayer were Coordinating Minister Wiranto, Public Works and Housing Minister Basuki Hadimuljono, Social Minister Agus Gumiwang Kartasasmita, Cabinet Secretary Pramono Agung, Military Commander Marshall Hadi Tjahjanto, Police Chief Tito Karnavian, Riau Governor Syamsuar, and Disaster Mitigation Agency (BNPB) head Doni Monardo.
Fakhri then led the prayer, asking God's blessing for immediate rain to extinguish fires in Riau and vicinity areas.
"Rain will fall, inshaAllah. Hopefully, Allah will pour the rain that can diminish this smog. The rain that will bring mercy," said Fakhri, followed by amen echoed by President Jokowi and other participants.
AHMAD FAIZ