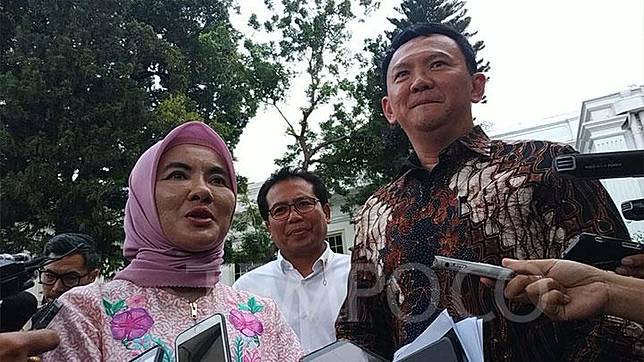 TEMPO.CO, Jakarta - President Joko Widodo or Jokowi meets Monday with state-owned energy firm Pertamina's president commissioner Basuki "Ahok" Tjahaja Purnama and president director Nicke Widyawati at the Merdeka Palace.
Jokowi met with both figures at 4:30 p.m. after presiding over a 2020 limited meeting on the empowerment of micro, small and medium enterprises. Ahok said there was no special direction from the President during the one-hour meeting.
"Yes, just exchanging smiles. I happened to sit a bit right in front of Pak Ma'ruf [Amin], the Vice President, and the President," Ahok said.
Ahok said Jokowi had frequently mentioned that the government sought to reduce the country's current account deficit, which, among others, would be done via improvements in the oil and gas sector.
Ahok, however, balked at detailing the matter given his position as the firm's president commissioner that was not directly involved in Pertamina's business.
"There are already many people who [are designated to] think about Pertamina. It is not my job to intervene in Pertamina's business. My job is to take care of its management, while she [Nicke Widyawati] handles the business," he said.
The meeting marked Ahok's first visit to the Palace since State-owned Enterprises (SOE) Minister Erick Thohir tapped him as Pertamina's president commissioner on November 23, 2019.
FRISKI RIANA