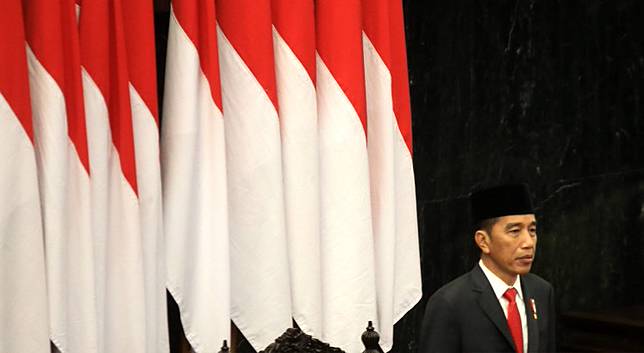 Joko "Jokowi" Widodo and Ma'ruf Amin have officially taken their oaths to serve the country as the President and the Vice President for the 2019-2024 term in a plenary session of the People's Consultative Assembly (MPR) on Sunday.
After reading the General Elections Commission's (KPU) official presidential election result, MPR Speaker Bambang Soesatyo announced that Jokowi and Ma'ruf would be sworn in as stipulated in Article 9 of the 1945 Constitution.
Jokowi, clad in a blue suit and red tie, went first, reciting the official oath of office while religious figures stood behind him holding a Quran over his head.
"I swear by God to fulfill the duties of President of the Republic of Indonesia to the best of my capabilities and in the fairest way possible, to uphold the Constitution by all means and to execute all laws and regulations as straightforwardly as possible, as well as to dedicate myself to the service of the nation and the people," Jokowi said.
Ma'ruf, wearing a black suit and pants instead of his usual sarong, went next, reading the same oath for his duties as the Vice President.
The inauguration marked the start of Jokowi's second and final term in office after having secured reelection in April's presidential race.
The ceremony saw the attendance of former presidents Megawati Soekarnoputri and Susilo Bambang Yudhoyono, outgoing vice president Jusuf Kalla and a number of foreign dignitaries including Malaysian Prime Minister Mahathir Mohammad, Singaporean Prime Minister Lee Hsien Loong and Australian Prime Minister Scott Morrison.
Jokowi's and Ma'ruf's erstwhile rivals during April's election, Gerindra Party chairman Prabowo Subianto and former Jakarta deputy governor Sandiaga Uno, also attended the ceremony.
According to the KPU's official count, the Jokowi-Maruf ticket won 55 percent of the vote in April, compared to Prabowo-Sandiaga's 45 percent.