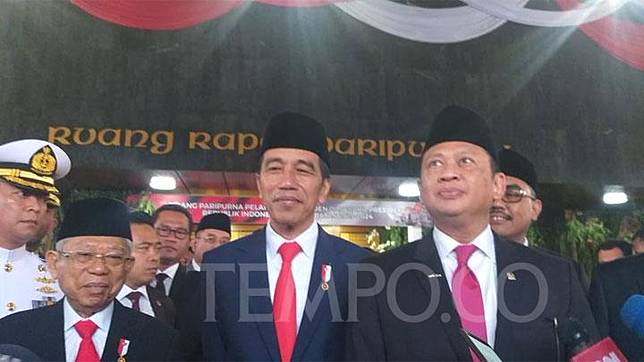 TEMPO.CO, Jakarta - President Joko Widodo or Jokowi delivered a speech after being sworn in at the MPR building, on Sunday, October 20, 2019. He revealed five programs that he would work with along with Vice President Ma'ruf Amin.
"First, the development of human resources (HR) which will be our top priority, building hardworking, dynamic HR," Jokowi said.
The second program that Jokowi said was to continue infrastructure development. "The infrastructure that connects the production area with the distribution area, which boosts new jobs, accelerates the added value of the people's economy," he said.
Third, Jokowi will also focus on simplifying all regulations. He will also invite the House of Representatives to issue two major laws, namely the Employment Copyright Act and the UMKM Empowerment Act.
Later on, Jokowi said, each of the Laws would become an omnibus law, secured by one law which at the same time revised several laws, even dozens of laws.
"Laws that inhibit job creation, are directly revised at once, which inhibits the development of MSMEs will also be directly revised," Jokowi said.
The fourth thing Jokowi will do is simplify the bureaucracy. Investment for job creation will be prioritized.
"The long procedure must be cut, the long bureaucracy must be trimmed," Jokowi said. He even threatened to dismiss his ministers later if they were not serious in guaranteeing the achievement of the objectives of the development program.
Fifth is economic transformation. Jokowi advised Indonesia to transform from dependence on natural resources to the competitiveness of modern manufacturing and services, which have high added value for prosperity.
ANDITA RAHMA