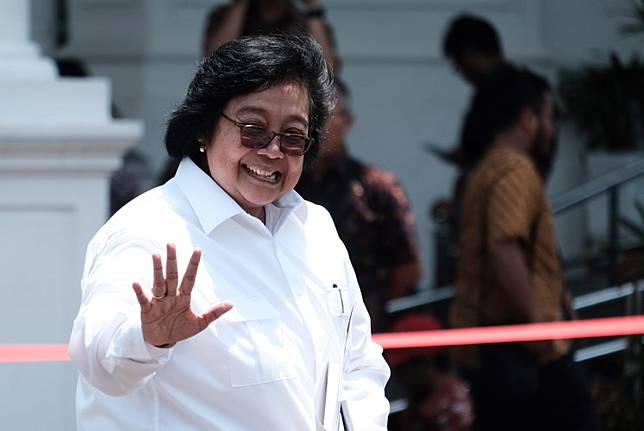 Environment and Forestry Minister Siti Nurbaya Bakar has confirmed that she will continue to serve as environment minister in President Joko "Jokowi" Widodo's second and final term.
Siti, a NasDem Party member, along with a number of Jokowi's other first-term ministers, was summoned by him to the State Palace on Tuesday, during which the President discussed with them ministerial positions in his second-term Cabinet.
"I said to [President Jokowi] 'Sir, I ask your permission to announce it to the media', to which he replied 'OK Bu Siti, you may mention that there is an obligation to complete [your] duties [as environment minister]'," Siti said after the meeting.
One of her top priorities upon resuming her position, she said, would be to work with the incoming Agriculture Minister to end slash-and-burn practices among agricultural communities across the country to reduce forest and peatland fires.
Siti added that she was committed to leading the ministry in balancing between Jokowi's priority of attracting more investment and preserving the environment.
She reasserted the government's commitment to preserving the forests around the new capital city, which straddles North Penajam Paser and Kutai Kertanegara regencies in East Kalimantan, following concerns expressed by environmental groups that moving the capital to Kalimantan, an island known for its vast forests, would harm the environment.
"The President has given instructions to me that relocating the capital to East Kalimantan and efforts to preserve and improve the environment and forests should be carried out simultaneously," said Siti. "Therefore, it is wrong to assume that we will clear the forest to open up land for the new capital because we plan to improve it [the environment in the new capital]."
Siti was the second politician from the NasDem Party to be confirmed as retaining seats in Jokowi's new Cabinet following NasDem politician and former South Sulawesi governor Syahrul Yasin Limpo, who confirmed that he would join the Cabinet after a meeting with the President earlier on Tuesday morning.