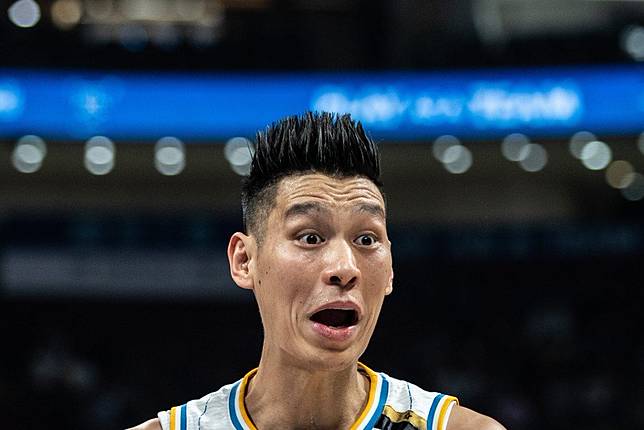 NBA champion Jeremy Lin helped the Beijing Ducks to a second consecutive win in the Chinese Basketball Association on Sunday.
Lin scored 22 points in a much-needed 86-79 victory over the Jiangsu Dragons. He also had seven rebounds and seven assists.
The 31-year-old was meant to sit out all of his team's January games but was brought back into the line-up last week after a 115-92 loss to the Qingdao Eagles.
That loss demanded action as the Eagles are barely in a play-off spot, sitting 11th of the 12 teams who progress to postseason.
Lin, whose only action this month was the CBA All-Star game where he top scored, returned with 17 points against Shenzhen Aviators on Friday night to help the team to a 91-87 win, also adding three rebounds and six assists.
Now after back-to-back wins, the Ducks are fifth on the standings with the same 19-10 record as the Liaoning Leopards in fourth place.
The top four teams at the end of the regular season in March get a bye to the quarter-finals of the CBA play-offs.
The Ducks have one more game before the Lunar New Year break when they face Stephon Marbury's Beijing Royal Fighters on Tuesday night.
A post shared by Jeremy Lin 林書豪 (@jlin7) on Jan 12, 2020 at 8:13am PST
They will then resume on February 1 against play-off rivals Liaoning.
One lucky fan received Lin's game-worn shoes after the win. The fan, who was wearing a Harvard basketball jersey bearing Lin's name, was handed the Lunar New Year edition of Lin's signature X-tep shoes by the star.
The sports brand, which signed on to sponsor Lin ahead of the CBA season, has also agreed to match Lin's three-point charity drive - donating 3,000 yuan (US$437) worth of sports equipment for every three-pointer.
Lin pledged 3,000 yuan per basket, which the Ducks agreed to match.
Copyright (c) 2020. South China Morning Post Publishers Ltd. All rights reserved.