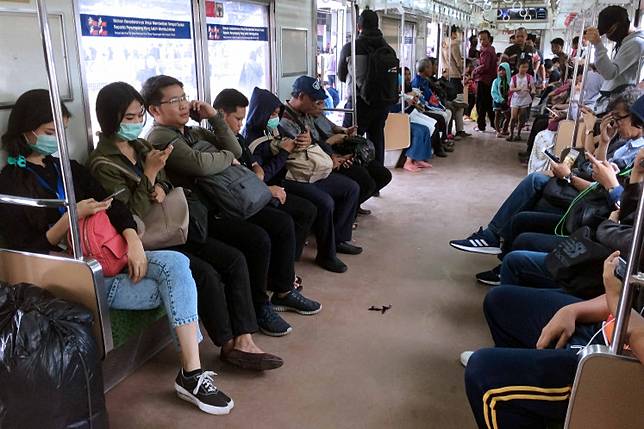 While many Jakartans are staying in their houses and working remotely to curb the novel coronavirus outbreak, home office is not even an option for many other workers in the capital and its satellite cities.
Lesmana, an employee of a Jakarta-based oil and gas company, was among those still doing their morning commute to the office on Monday, even though a state of emergency over the COVID-19 pandemic had been declared in the capital city -- the hardest-hit area of the country.
The 60-year-old said the company, which had employed him at its logistics department for 12 years, still required him to come in to work, as some tasks needed to be done in person.
As usual, he took the Transjakarta bus on the route connecting Tanjung Priok in North Jakarta with Cililitan Wholesale Center (PGC) in East Jakarta and got off at Kebon Nanas Station on Monday morning.
Although the city-owned bus company only allowed four to five standing passengers in line with the social-distancing order, Lesmana admitted that he was concerned about getting infected while commuting to work as the coronavirus spread rapidly.
"Of course I am worried, but what can I do? I have no other [transportation] option," Lesmana told The Jakarta Post on Monday.
Read also: COVID-19: Does Indonesia need a lockdown? It depends on how you define it
Radita Nur Aini shared a similar experience, as she still had to take a public minibus from her rooming house in Cimanggu district in Bogor, West Java, to her office in Parung district, an area southwest of South Jakarta, on Monday.
The 25-year-old, who works as an administrative staff member at a leasing company, said she could not do anything but follow her company's policy that still required her to do her job from the office despite the COVID-19 outbreak, particularly since she had just been working there for a month.
She realized that taking the minivan might not be the wisest thing to do right now, but the cost of travel was much lower than if she took an app-based taxi, which could cost her Rp 50,000 (US$3) per ride.
"It takes 45 minutes to travel with two changes and costs Rp 9,000 per trip," she said.
The number of confirmed coronavirus cases has continued to surge in the capital over the past weeks, with Jakarta alone reporting 356 positive cases out of 579 infections nationwide as of Monday. Forty-nine people have died from the virus to date, including 31 in Jakarta.
Jakarta Governor Anies Baswedan declared a two-week state of emergency on Friday, urging all stakeholders to take drastic measures to slow the transmission of the disease, as concerns mount that COVID-19 could spread in offices, public places and public transportation.
Read also: Jakarta declares emergency, but doubts persist over compliance with social distancing directive
Corporations have been urged to stop operations for 14 days starting Monday or introduce work-from-home policies and reduce the number of employees working in the office to a minimum if the companies were unable to close their offices.
Authorities also advised the public to stay at home whenever possible and maintain social distancing as hospitals scrambled to treat coronavirus patients.
As of Monday, at least 1,512 companies across the capital have put in place work-from-home policies for some 517,743 of their employees in response to the outbreak, according to the Jakarta Manpower and Transmigration Agency.
Rahma, another worker in Jakarta who still had to go to work on Monday, expressed hope that the manufacturing company she works for would heed the Jakarta administration's call.
The 25-year-old said she had to endure anxiety while commuting to work using the Transjakarta bus from Slipi to Kalideres in West Jakarta but had no other option, as the company said it would not meet production targets if employees did not come to work.
"The virus has taken lives, and I guess we should follow the government's call […]. I actually disagree with my company's policy that prevents us from working from home, but all I can do now is just follow the company's rules," she told the Post. (trn)