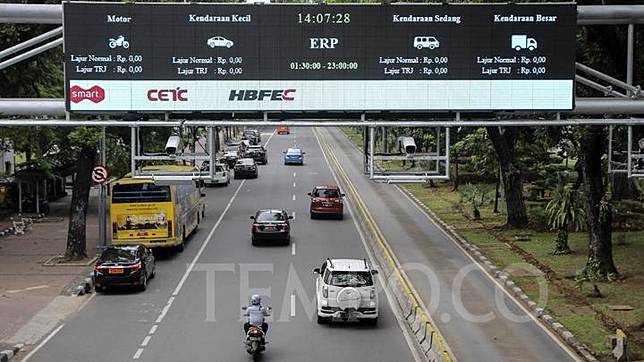 TEMPO.CO, Jakarta - Greater Jakarta Transportation Agency (BPTJ) said that the electronic road pricing will be imposed in the city's border areas in 2020.
"BPTJ is responsible for the national road, while provincial or regency administration [will be responsible] for their respective road," said BPTJ head Bambang Prihartono at Pecenongan, Central Jakarta, Thursday, November 14.
Bambang mentioned that national roads in border areas to be installed with the ERP system are around Margonda, Depok, and Kalimalang, Bekasi.
While drafting the entire road map, BPTJ said it was reviewing existing regulations considering the ERP will be listed in the non-tax sector or PNBP. "So far, the regulation notes down retribution system which means it is attached to regional, provincial, or regency roads. So the government regulation requires revision," Bambang said.
The provincial administration had held the trial run of the ERP system on Jalan Medan Merdeka Barat for 20 days in 2018. The project had been tried on Jalan Jenderal Sudirman and Jalan HR Rasuna Said, too.
In September 2019, the Attorney Generals Office demanded a new tender process, albeit the capital had made the tender involving several companies.
City Governor Anies Baswedan said that the concept of the ERP would be recognized as the congestion tax.
ANTARA