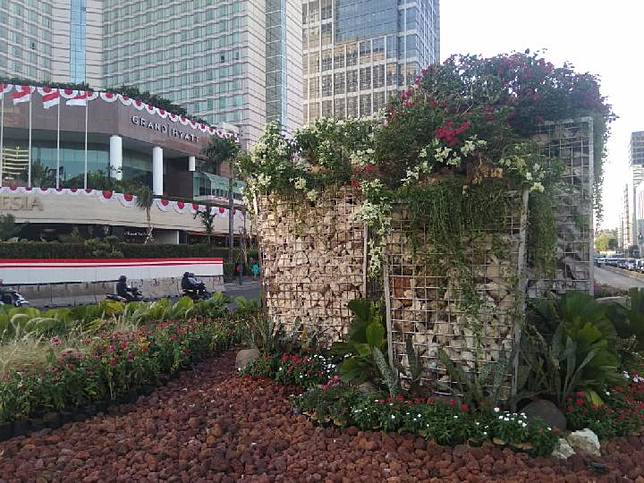 TEMPO.CO, Jakarta - Jakarta Forestry Agency head, Suzi Marsitawati, said the city administration will install Gabion or Bronjong installation in HI Roundabout, Central Jakarta as a replacement of the giant bamboo installation, Getah Getih. Suzi said the artwork will cost Rp150 million.
"The budget will be from us," said Suzi to Tempo, Wednesday, August 21.
Gabion is a wirework filled with rock which is commonly used to protect and retain walls, either in river slopes or banks, as well as prevent river banks from water flow and erosion.
The sculpture, that is designed by the agency itself, is considerably cheaper than the bamboo installation which cost Rp550 million designed by a prominent artist Joko Avianto.
The installation will have three gabions in diverse sizes of 2-4 meters. Each gabion will have beam-shaped and represent the element of water, land, and air. The gabion will be filled with coral reef and around it will be planted some pollutant-absorbing plants such as Bougainville.
"We would like to exhibit installation with a sense of nature."
Suzi further reiterated that the city administration granted her agency freedom to creatively develop the installation. For the governor, she added, "what's important from the installation is it's creative, natural, and made of a typical material of Indonesia."
Suzi claimed that the gabions could be installed permanently as they have stronger endurance than Getah Getih that was dismantled on July 2019 after it turned to fragile and unsteady in less than a year of its installment.
IMAM HAMDI