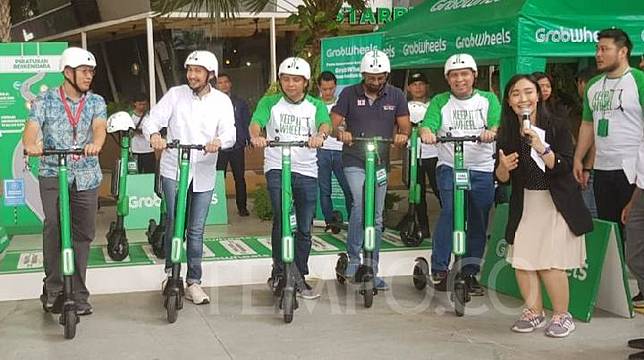 TEMPO.CO, Jakarta - Jakarta Transportation Agency is planning to draft regulation on the use of electric scooters or e-scooters and bicycles. The agency head Syafrin Liputo said the policy will decide the classification of the vehicle as bicycles, and so it must use bike lanes.
"Even though it uses the electric motor, it is specified as small-sized vehicles," said Syafrin on Thursday, Oct. 17. He added that scooters have a speed of 20-25 kilometers per hour.
Ride-hailing app firm Grab Indonesia previously launched a new service of automatic scooters dubbed GrabWheels. The short distance transportation service is available in seven regions across Jakarta, Bogor, Depok, Tangerang, and Bekasi.
In Jakarta, Grab synergized with state lender Bank Rakyat Indonesia (BRI) in the provision of the station, which has been constructed in BRI Central Office Park. They planned to build more stations in the bank's branch offices in the capital.
Responding to the emergence of GrabWheels, the Indonesian Consumers Foundation (YLKI) secretary Agus Suyanto assessed that the electric scooter did not have a safety standard for the operation in highways. Even Denmark and the Netherlands banned such scooters.
Therefore, Agus supported the government to issue a special regulation to manage the use of e-scooters such as GrabWheels. "That requires standard tests for the safety and security of riders and road users," he underlined.
INGE KLARA SAFITRI