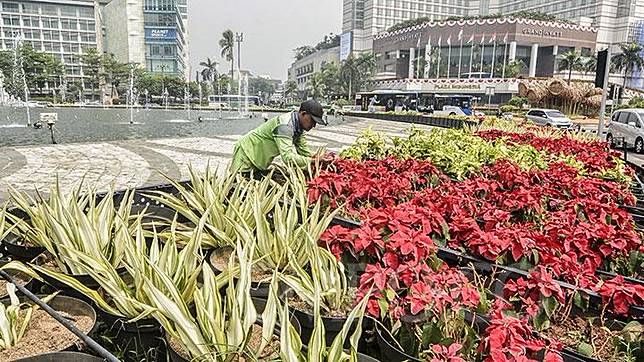 TEMPO.CO, Jakarta - The Jakarta Forestry Office is targeting to plant 2 million trees for 200 parks by 2022. Forestry Office chief Suzi Marsitawati said the 2 million plants consisted of 500,000 trees and 1.5 million decorative plants.
"We have started planting every day for anti-pollutant plants," Suzi said when attending the 'City Parks as Third Public Space' discussion at Jakarta City Hall, Thursday, October 17.
Along the Sudirman-Semanggi Road, the Forestry Office has planted 26,000 Bougenville trees and will continue on to M.H. Thamrin Road. Plants like Bougenville will continue to be planted on main roads as anti-pollutants.
"Bougenville also beautifies gardens, and they are strong," Suzi said.
Another type of plant is the Buttercup, which has been planted on Sudirman and Semanggi.
The Forest Office also focuses on planting anti-pollutants in pedestrian walkways. In total, there are 31 pedestrian walkways built by the Department of Highways that will house decorative plants from the Forestry Office.
"Until 2022, more than 1.5 million decorative plants will be planted," Suzi said.
In addition, Suzi said the government would provide plants and seeds to every school in the city. Schools wanting to get free plants or seeds can submit a request to the Forestry Office.
"The plants we provide were cultivated in our nurseries," she said.
Imam Hamdi