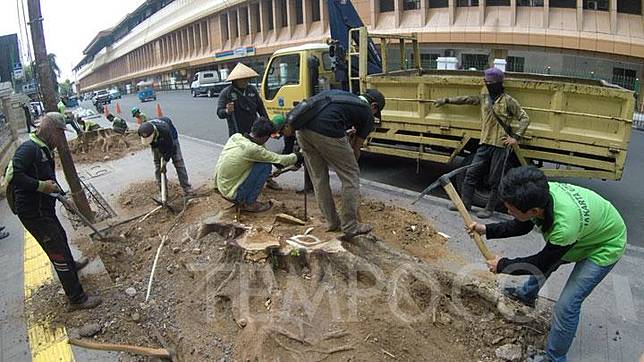 TEMPO.CO, Jakarta - Jakarta Legislative Council (DPRD) speaker Prasetio Edi Marsudi called on the city administration to stop cutting down trees for the construction of sidewalks. Edi also urged the city's Forestry Office to study the tree logging following public complaints.
"I'll order it to be stopped and reviewed first," said Edi at the DPRD building, Monday, November 11.
Edi acknowledged the provincial administration's reasons for cutting the trees, which included to build pedestrian sidewalks. However, such sidewalks needed trees, so it could be used as a shelter.
"I agree [with the goal] to open up pedestrian sidewalks. But [the trees] should have be relocated, instead of cut down," he remarked.
Referred to Regional Regulation No. 8/2007 on public order, Edi added, people are prohibited from logging trees carelessly. Also, reasons of the logging of the trees must be clear, such as because of the porous roots or based on urgency as occurred on Jalan Jenderal Sudirman and Thamrin.
"MRT was built there. The roots of the trees might disturb the train so we cut it," he added.
Meanwhile, Edi considered the trees along Cikini sidewalks were healthy ones. He lamented the logging, given the previous government planted trees in the area with a purpose. "The trees were not planted recklessly. There were reasons for planting."
Edi then suggested the Jakarta provincial government move and replace the trees on the sidewalk if they were not in accordance with the design. If it still could be preserved, it would be better for the government to maintain and tidy up the tree.
IMAM HAMDI