Hong Kong's largest glass bottle recycler has confirmed that it had received instructions from the government to suspend collection and withdraw bins from the streets because of ongoing "social issues".
Chief Secretary Matthew Cheung Kin-chung had earlier sent a message to all permanent secretaries and department heads on Friday, reminding them that tackling violence was a top priority, regardless of their speciality.
Glass bottles, mainly for beer, have been increasingly sought after by protesters to make petrol bombs for use in clashes with police as the city entered its sixth month of anti-government unrest.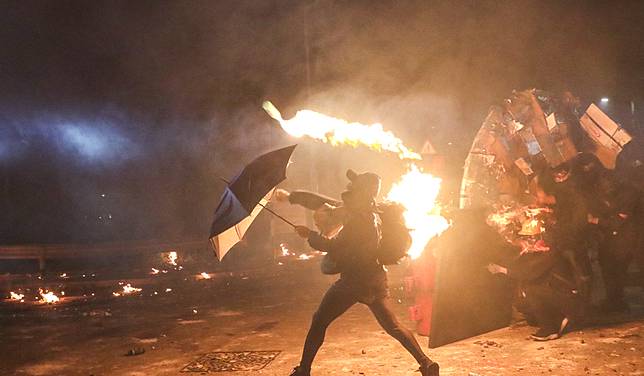 At Polytechnic University on Sunday, about 30 students sat in one corner of the campus, manufacturing petrol bombs, as others carted them to the front line.
Petrol bombs were also frequently used in the stand-off with police on Chatham Road outside the campus.
Students and protesters have been observed this week pouring beer from bottles into drains outside the campus car park, sparking a strong smell of alcohol in the area.
At Baptist University, protesters asked international students to help them by drinking beer so that empty bottles could be used for petrol bombs, according to a Norwegian newspaper.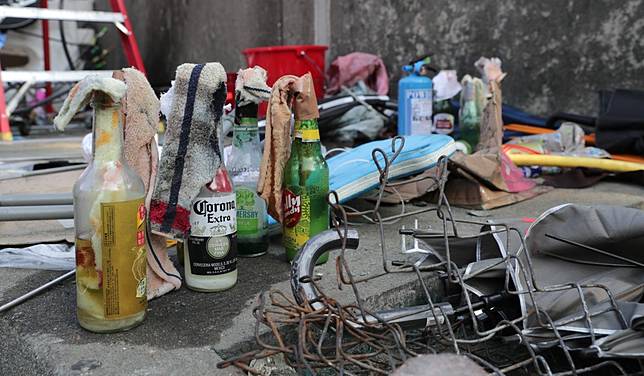 Major contractor Baguio Waste Management and Recycling Limited said the Environmental Protection Department did not provide details on whether the suspension was related to the petrol bombs used in protests. It was also not told when it could resume business.
"The department only mentioned the move was based on recent social circumstances and the safety of employees, with a suspension of waste glass container collection and treatment services," a Baguio spokesman said.
"Before such an announcement, the department had asked us to minimise recycling bins on the street, but not much details were given also."
Baguio, which collects bottles in the New Territories and Hong Kong Island, is one of two glass management contractors hired by the government through open tenders in 2017 and last year to provide collection and proper reuse or treatment of glass containers. The waste is then turned into reusable materials.
The operations of both contractors account for 60 tonnes, or 180,000 bottles recycled daily.
As part of their five-year contract, the companies must meet a target of 5,500 tonnes and supply 250 tonnes of sand to the government's public fill banks.
Baguio said it hoped to get more information from the department since such a halt might prevent it from meeting targets specified in the contract.
The other company, Glass Reborn, which serves the Kowloon area, said it had not received notices from the government, but would cooperate if requested.
"We have around 30 staff members, and rental and salary expenses reach nearly HK$1 million each month. We are worried there will be a financial burden," Derek Fung, general manager of Glass Reborn said.
Bars in the entertainment zone of Lan Kwai Fong in Central, and Lockhart Road in Wan Chai meanwhile confirmed that they too were notified of the suspension, with bottles to be treated as garbage and disposed off at the moment.
"We received an apology notice on Thursday, saying the glass recycling service is suspended until further notice," said a waiter - who wished to remain anonymous - at a bar in Lan Kwai Fong. "But not much details have been given".
Hahn Chu, director of environmental advocacy at Green Earth, a conservation group, said he was worried the suspension would bring about adverse effects, such as leaving tonnes of beer bottles dumped at landfills.
"The department seems to be worried that protesters will take away beer bottles inside recycling bins, but can a total suspension really stop the problem?" Chu said. "To prevent wastage, recycling should continue for areas such as hotels and residential buildings, where there is a lower risk of bottles being stolen."
The Post has reached out to the Environmental Protection Department for comment.
Besides pollution from excess waste, online users have expressed concern over the air quality in recent days amid citywide protests. The department was questioned over the absence of monthly dioxin levels in the air since October in its regular online report. Critics suggested this could be a cover-up so authorities did not have to reveal effects of the frequent firing of tear gas by police.
The department earlier told the Post there were no irregularities in dioxin levels updated till September. It added that the October figures were under analysis and would be announced and displayed by the end of the month.
Copyright (c) 2019. South China Morning Post Publishers Ltd. All rights reserved.