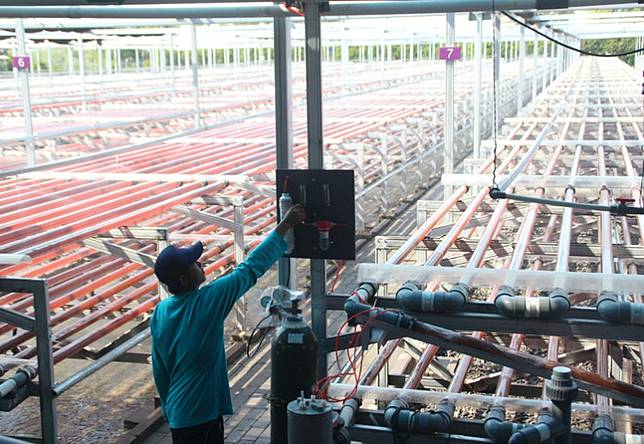 Over the past few years, many export-oriented, labor-intensive manufacturers in Tangerang, Banten, have relocated to Central Java. Three more canvas shoe factories will follow when their new plants are completed, causing hundreds of thousands of worker layoffs.
The Tangerang industrial and statistics offices have confirmed the investor exodus. Firman Bakri Anom, chairman of the shoe manufacturers association, said 25 factories in Banten, notably Tangerang, had relocated to Central Java.
He said he regretted the negative trend as shoe manufacturing was labor intensive. One factory employs as many as 50,000 workers.
The main investor deterrents have been an unchecked and steep rise in regional minimum wages, a severe lack of trained and skilled workers and an unfriendly attitude toward investors on the part of the city and trade unions. The Tangerang minimum wage has increased to Rp 4.4 million (US$303) monthly — twice as high as that of Central Java.
This industrial flight should have been a strong warning to regional leaders from across the country who gathered in Bogor, West Java, on Wednesday for the regional leadership forum. It is an example of how a town or regency's economic competitiveness can slide quickly when bad policies prevail.
Tangerang and other towns around Jakarta, such as Bekasi, Bogor and Cibinong, have benefited from the development spillover that took place during the labor-intensive manufacturing boom in the 1980s and 1990s.
But Central Java, under the leadership of Governor Ganjar Pranowo, has been working hard to woo investors in a bid to develop itself into a new major production base for labor-intensive industries. The local administration went all out to support the development of a 2,700-hectare industrial estate in Kendal, near the provincial capital of Semarang and its largest seaport of Tanjung Emas.
Ganjar, a former lawmaker, was smart to observe that industrial zones around Jakarta have increasingly suffered from congested roads and ports. He has become well known for going the extra mile to help make things easy for business operations, and he fully realizes that investors create jobs, which in turn generate taxes, wages and purchasing power to turn the wheels of the regional economy.
The Kendal Industrial Park (KIP) is a paragon of good industrial planning. Supported with sufficient infrastructure such as a nearby airport and seaport, power, bonded warehouses, training facilities and residential and commercial areas, the park and its efficient design have contributed greatly to the growth of manufacturing industries. Not only domestic investors, but many investors from Asia, notably Malaysia and Singapore, have built labor-intensive factories in KIP.
More encouraging still is that both investors in KIP — Indonesia's Jababeka and Singapore's Sembcorp — are the largest and most experienced developers of industrial parks in their respective home countries. In fact, Sembcorp is already very experienced in developing and managing industrial parks on the Indonesian islands of Batam and Bintan, as well as in Vietnam and China. The KIP and Governor Ganjar, therefore, can teach a few lessons to other parts of the country and their leaders.