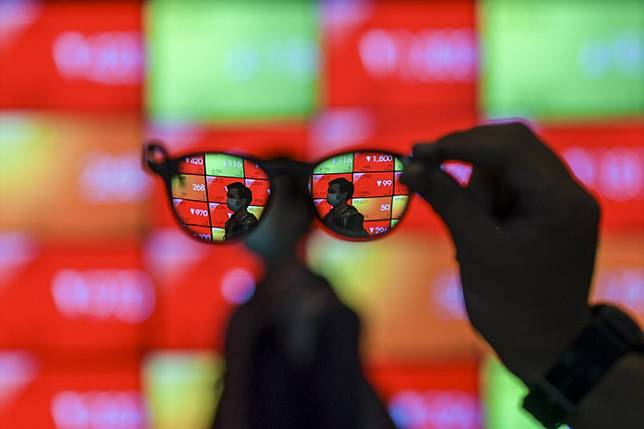 The Jakarta Composite Index (JCI) fell more than 2 percent on Monday after three months of a strong performance following the global stock market crash in March.
The Indonesia Stock Exchange's (IDX) main gauge concluded its trade on Monday at 5,006.22, 2.78 percent lower than Friday's posting. The drop was consistent throughout the day and even touched its lowest level of 4,928 on the day, a level unseen in the past month.
Foreign investors sold a total of Rp 1.48 trillion (US$100.31 million) worth of Indonesian shares on Monday's selling spree. About 401 stocks were closed in the red during the day as several stocks like those of property developer PT Summarecon Agung and paper manufacturer PT Pabrik Kertas Tjiwi Kimia recorded drops of 6.67 percent.
Koneksi Kapital analyst Alfred Nainggolan said that the JCI's steep drop was caused by market players' anticipation of second quarter numbers, which would be announced by Statistics Indonesia (BPS) on Aug. 5.
"The market is preparing for the worst-case scenario as many market players expect that our economic growth will bottom out in the second quarter," he told The Jakarta Post.
The government expects the country's economic growth to contract to 3.5 to 5.1 percent in the second quarter of the year as large-scale social restrictions (PSBB) were applied in areas heavily affected by COVID-19 to curb the spread of the virus.
The measures limited economic activities as local administrations forced offices and non-essential businesses to close for about three months.
Alfred said the JCI's movement in August would depend on the result of gross domestic product growth in the second quarter of the year.
"The index would likely weaken this month within the range of 4,800 to 5,100," he said.
Should the economy manage to rebound in the third and fourth quarters of this year, the JCI could conclude its trade at 5,600 this year. 
Meanwhile, Jasa Capital Utama analyst Chris Apriliony expects the JCI to continue moving sideways throughout the month of August, fluctuating between 5,050 and 5,116.
"The JCI is likely to continue its decline until mid-August as a response to the contracting economic growth," he said via text message.