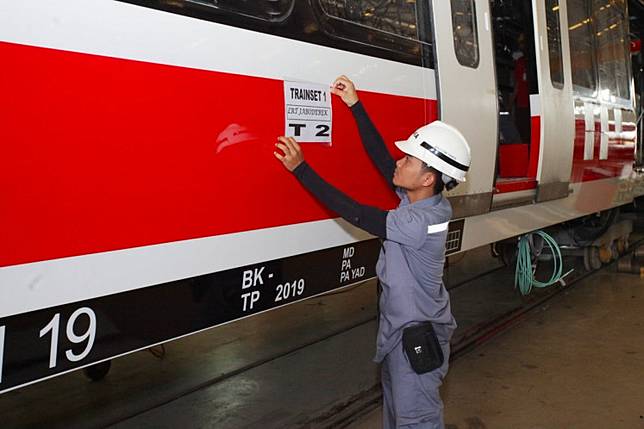 State-owned train manufacturing company PT Industri Kereta Api Indonesia (Inka) is expecting to earn Rp 7.2 trillion (US$506.5 million) worth of order contracts this year, including from exports of rolling stock to African and Asian countries.
Inka president director Budi Noviantoro said on Monday that the company, based on a contract signed in January 2018, would deliver 30 electro-diesel locomotives worth $91.3 million to Zambia.
Under an October 2018 contract, Inka was delivering 250 trains, 200 of which were of the meter-gauge type while 50 were broad gauge, worth $100.89 million to Bangladesh, he said.
Of the trains ordered, Inka already delivered 50 to Bangladesh in January, while the rest were being delivered gradually, he added.
Budi said that based on a contract signed in May last year, the company was exporting four diesels multiple unit (DMU) trains worth $70.2 million to the Philippines.
Inka is now operating a company on a 22.5-hectare area in Madiun, East Java, with an annual production capacity of 550 freight wagons, 225 passenger wagons, 80 electric and electric-diesel cars, 80 locomotives and 1,000 tons of construction products.
The company is now constructing a larger factory on an 84-hectare area in Banyuwangi, East Java, with a capacity of four times of its current plant in cooperation with Stadler of Switzerland. The new plant, being constructed with a planned investment of Rp 30 trillion, is expected to start operating in the middle of 2020.
Budi said on Monday that his company was expecting to seal deals to export rolling stock to African countries like Angola and Madagascar as well as to another Asian buyer, Sri Lanka.
"Angola wants to buy 10 trains just like the ones used for the Jabodetabek commuter lines, but we are still discussing the delivery deadline," he said at a press conference at the State-Owned Enterprises Ministry office.
Meanwhile, Madagascar wanted to buy freight trains for bauxite transportation, he said.
According to Budi, Inka will work with state-owned construction firm PT Wijaya Karya (Wika) and electronics manufacturer PT Len Industri for train construction and the establishment of bauxite transportation infrastructure at the value of $350 million.
Additionally, he said his company would sign a $50 million contract for the export of 100 trains to Sri Lanka.
Some of the rolling stock would be produced at the new factory in Banyuwangi, Budi said.
"The new factory is strategically located for exports because it is being built near a port," he said, adding that its construction was about 25 percent complete. (eyc)