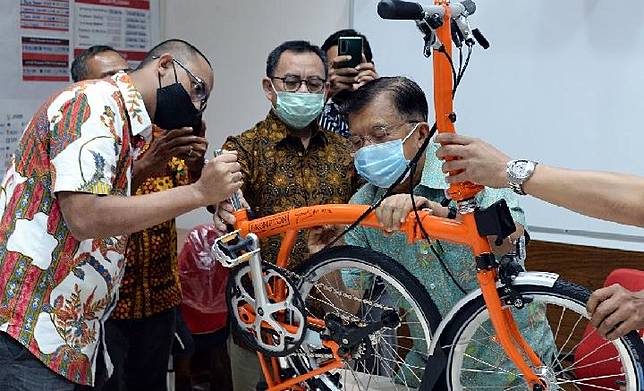 TEMPO.CO, Jakarta -The Indonesian Red Cross Society (PMI) announced that it will auction one Brompton bicycle owned by PMI Jakarta Chief Rustam Effendi, on Tuesday's during a blood donor event scheduled to take place on Tuesday, August 11, 2020. The event is said to be attended by hundreds of cyclists at the Jakarta PMI headquarters in Central Jakarta.
According to Rustam, all profits from the auction will be donated for PMI humanitarian efforts. The Brompton itself will have an initial offering price of IDR 45 million with an added-value in the form of signatures from figures such as former vice president if Indonesia Jusuf Kalla and former Jakarta deputy governor Sandiaga Uno written on its frame.
"To add its value, the bicycle has been signed by public figures. The bicycle will belong to the highest bidder," said Effendi.
The event is predicted to attract some 300 cyclists from various bicycle communities. The blood donation itself is open from Monday, August 10, 2020, and will last until August 16, 2020.
"We are aware that the public is quite wary about donating their blood amid the pandemic. However, we can assure you that it is safe and there is nothing to be worried about. You may come to the event or we can come to you," said Rustam.
ALEXANDRA HELENA