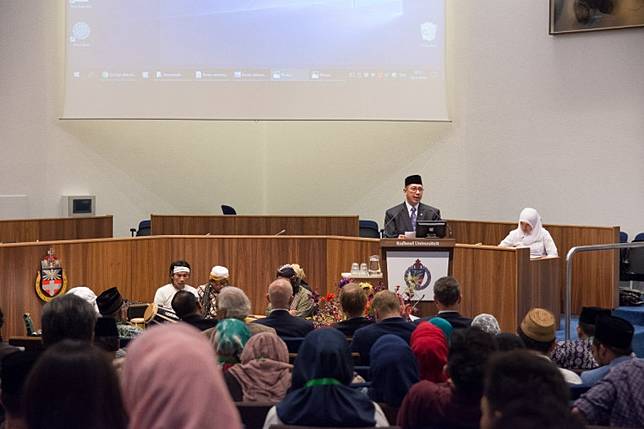 Indonesian Muslim figures spoke at the second international conference on moderate Islam, "Seeking The Middle Path (Al Wasatiyya): Articulations of Moderate Islam" in Radboud, Nijmegen, the Netherlands, to promote moderate Islam along with hundreds of international Muslim figures.
As reported by Antara news agency, according to Renata Siagia, spokesperson of the Social Cultural Department of the Indonesian Embassy in Den Haag, the conference was a biannual event organized by Nahdlatul Ulama's special chapter in the Netherlands with Radboud University.
The aim of the conference is to promote the concept of al-wasatiyya, which is often translated as "middle Islam" or the "common ground".
Middle way religion was not only hope for a state or community, but a common interest for the whole world, Indonesian Religious Affairs Minister Lukman Hakim Saifuddin said during his keynote speech. 
Middle way religious practices are needed to create a peaceful, harmonious, antiviolent and diverse world, he said.
The conference was attended by 300 people comprising academics, researchers and cultural practitioners from various backgrounds from Indonesia and the Netherlands.
Among them were Yahya Cholil Staquf, NU supreme council secretary-general who also serves as an adviser to President Joko "Jokowi" Widodo and Syafiq Mughni, the president's special envoy for interfaith dialogue.
The conference also held a Muslim-Christian interfaith dialogue titled "Promoting 'Costly' Tolerance: Challenges for States and Religious Communities" at Sekolah Indonesia Den Haag, Wassenar, in which about 100 people attended. (gis)