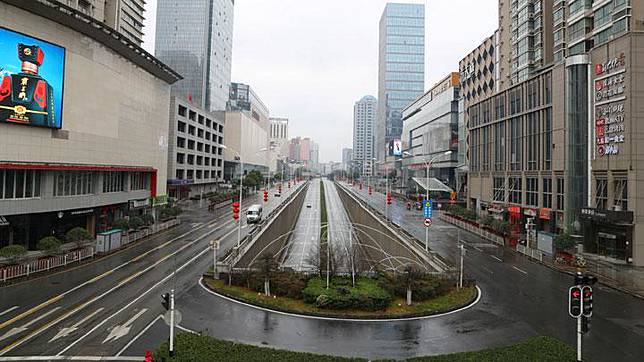 TEMPO.CO, Beijing - The Indonesian Embassy in Beijing confirms having continually monitored the living conditions of 93 Indonesians stranded in China's Wuhan City, the epicenter of the deadly new coronavirus outbreak, and supplied staple food stocks to them.
"We are not leaving them behind. We continue to maintain regular contacts with them. If something very urgent arises, we have provided four hotline numbers to them," Indonesian Ambassador to China Djauhari Oratmangun informed Antara in Beijing on Monday.
The embassy's hotline numbers are +861065325489, +8613811284505, +8613146453974, and +8613552235327, he revealed, adding that the stocks of staple foods for the Indonesians in Wuhan might run out within the next five or six days.
However, before the stocks of basic necessities run dry, the embassy staffers would replenish them. The staple foods were bought online, and couriers would deliver them to coordinators of the Indonesian communities at universities and apartments, he noted.
Most of the 93 Indonesians currently stranded in Wuhan are students, but one or two of them are expatriates staying in apartments. The Indonesian Embassy supplies staple foods fairly to all of them without exception, he revealed.
In ensuring the safety and security of all Indonesians in the disaster zone, Ambassador Djauhari Oratmangun affirmed that the embassy authority has continued to intensively communicate with the authorities in the Chinese Government, Hubei provincial administration, and Wuhan city government.
"We also coordinate with our colleagues at the Indonesian Consulate General offices in Ghuangzhou and Shanghai," he stated.
The Indonesian Embassy in Beijing noted that at least 200 Indonesians reside in Wuhan. Most of them might have returned to Indonesia for holidaying, while 93 others got stranded owing to the Chinese government's decision to put the city on lockdown to stop the spread of this deadly virus.
This novel coronavirus has, so far, claimed at least 80 lives in China, while several other countries, including the United States and Canada, have announced their confirmed cases.
However, none of the confirmed cases were found in Indonesia. Apart from this reality, since the issuance of an official statement by the World Health Organization (WHO) on the coronavirus outbreak in China, the Indonesian government has remained on alert.
As part of its precautionary measures, thermal scanners have been installed at various airports around the archipelago for screening international passengers. The thermal scanners are aimed at detecting any foreign tourists symptomatic with this novel coronavirus.
Several hospitals in Indonesia's big cities have also made necessary preparations to handle those with suspected coronavirus symptoms.
In Jakarta, the Sulianti Saroso Hospital for Infectious Diseases in North Jakarta had received a patient, with symptoms suspected to be of coronavirus.
Chinese authorities declared the first case of coronavirus after a person with pneumonia was hospitalized in Wuhan City, Hubei Province, China, according to an official statement of the WHO.
Over the past week, people, with symptoms of pneumonia and reported travel history to Wuhan, had been identified at international airports.
ANTARA