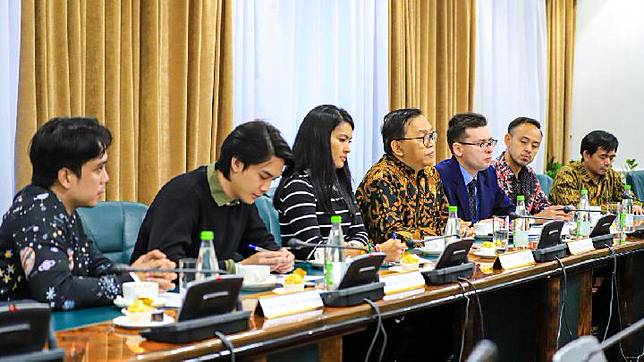 TEMPO.CO, Jakarta - Culture Minister of the Republic of Tatarstan, Russian Federation, Irada Ayupova has invited one of five directors of "Lima" film, Lola Amaria to participate in the 16th Kazan International Muslim Film Festival in Kazan, Republic of Tatarstan in September 2020.
The Kazan International Muslim Film Festival not only shows film about religion, but also a forum to promote the values of local traditions, such as humanity, empathy, devotion to the homeland and family, as well as respect for elders, and assistance for children. This annual film festival is showing more than 500 films from 50 countries around the world.
The Indonesian Embassy for Moscow in Russia stated on Sunday, January 26, 2020, that Lola would prepare for her participation in the Film Festival by bringing a documentary film entitled "Pesantren" (A Boarding School) by director Shalahuddin Siregar.
Previously, Lola and Indonesian actor Baskara Mahendra came to Kazan on January 25, 2020 regarding the screening of "Lima" in "Mir" Cinema. The "Lima" film got positive response from the local people and it can be seen from the packed crowds that cannot be accommodated by 200 seats. The cinema has provided additional seats yet there are still visitors who are willing to watch the film while standing.
The film screening was held in collaboration with Indonesian Embassy in Moscow with Lola Amaria Production and supported by the Ministry of Culture of the Republic of Tatarstan, the Kazan State Institute of Culture (KazGIK), Cinema "Mir", and other related parties in Tatarstan. In addition to introducing Indonesia, film screenings were carried out in order to enliven the 70th anniversary of diplomatic relations between Indonesia and Russia in 2020. Lola's coming in Kazan was also to explore film cooperation with local parties, such as KazGIK.
The Republic of Tatarstan is one of the states in Russian Federation with Muslim majority and recently awarded as most liveable area. About 83 Indonesian students are studying in Kazan, the capital of the Republic of Tatarstan.
Suci Sekarwati | Safira Andini (Intern Translator)